Thunder Valley Motocross
Lakewood

,

CO
Race Center: Thunder Valley
Lucas Oil AMA Pro Motocross Championship
Racer X: As good as you rode today, it sucks to not make the podium, huh?
Forkner: I'm very pissed off about that.
That first moto was great. With like five laps to go you just caught fire. I guess that was kind of your plan, or did you find some lines? What happened?
Definitely wasn't my plan. I got about a seventh or eighth place start and just kind of got shuffled back a little bit. If one guy passed me I felt like another guy would get just because I would kind of get flustered. I would have to switch up a line. It wouldn't work. About halfway I found good lines and just kind of started riding a little bit better. Just didn't get tired that moto and other guys got a little bit tired. I was only about a second a lap faster, but I just kind of over some laps was able to catch up. Almost caught Alex [Martin] at the end, but I made a big mistake in the sweeper and he kind of got away enough to where I couldn't get him.
Were you planning like, I got a last lap, I'm going at it? You were going to make a push?
I was just riding the same that I was because I was catching everybody doing that. I didn't really change anything up. I just kind of got roosted and couldn't rip a tear-off. It was hard to see and there was a bunch of ruts. It just kind of got swapped up in the ruts.
Second moto?
Second moto was all right, not as good as the first moto. I got a decent start. Kind of got almost high-sided on somebody in the first turn. I was in about fourth or fifth by the end of 10 minutes. When everybody kind of got settled in I was in fourth behind [Joey] Savatgy, [Jeremy] Martin, and [Dylan] Ferrandis. Then Ferrandis went down with a lapper. I kind of got held up behind him and lost sight of Savatgy and Martin a little bit. Then it was just kind of hard for me to get back just to chase them down. Whenever you kind of lose sight of them, it's hard—that's kind of your incentive to ride extra hard. In the first moto I had all the guys right in front of me. I had probably five guys within 10 seconds in front of me at one point. I could see them all and I kind of lost sight of them and just didn't really ride that great after about 20 minutes. Got a little bit tired, but not like super tired. I just kind of didn't really have the speed after about 20 minutes. Went 2-3 so that's definitely an improvement from all my other motos so far this season. I rode really good the first moto and pretty good for the first 20 minutes of the second moto. Just kind of fell off a little bit at the end of that.
We were talking about you this week. You came into this season like, "Yeah, I can win this national championship." You want to win the national championship. A couple DNFs, 50 points back. Has it been pretty frustrating?
Yeah. I'm not really thinking about it.
Just go out and try to win?
Yeah. I don't really care about the championship. I wouldn't care about the championship if I was in the lead right now. You can't think about the championship. You've got to do the best you can every single moto and at the end of the year, with two rounds left, if you're in the title hunt then you can start thinking about it. There's guys thinking about the championship after two rounds and that's just stupid. There's no milking it to try to get the championship. You've got to just try to do the best you can at every round. At the end of the year if it turns out … I'm back 50 points—who's to say that next weekend the three guys that are in front of me all have bike problems? I'm within 15 points. Something like that could happen. You never know. Sucks to have bike problems in the first couple races, but just got to dig yourself out of a hole and just got to do that by getting good moto finishes.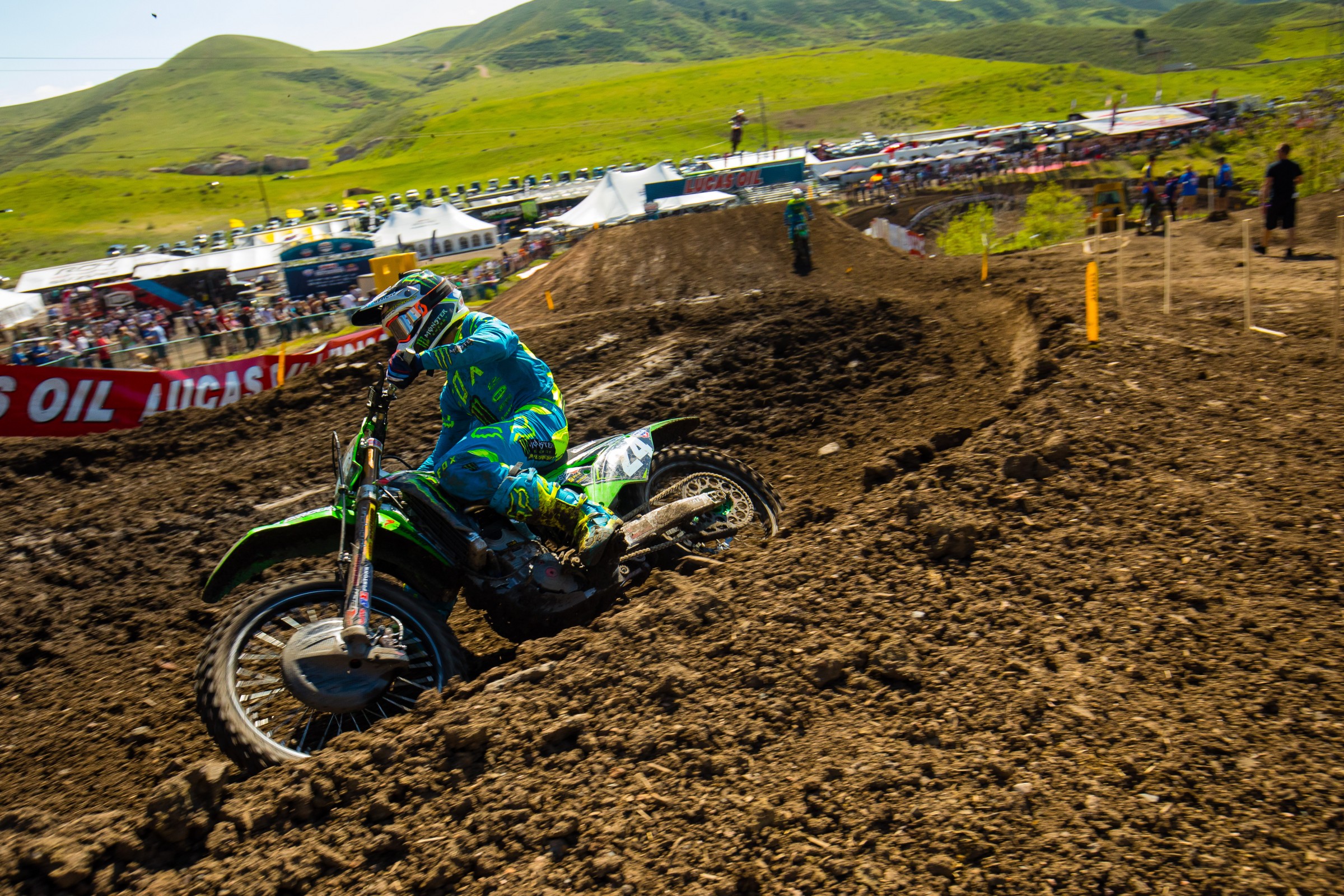 Racer X: Thought we were going to see another Ferrandis show second moto, and he got ninth in the first moto, which would have matched at Glen Helen. But unfortunately, he fell.
Hahn: Yeah. It looked like a repeat of last weekend starting over again. And then having Aaron [Plessinger] out front too. I thought we had a pretty good position there to win a moto and if not, be on the podium overall. Obviously Aaron went down. It was on the blind side of a jump and the flaggers were directing all the guys directly into his bike.
Did you happen to see who grabbed a flag?
I did. I saw Nick Wey run onto the track, grab the flag out of the guy's hand, and fix it. So, big shoutout to Nick Wey on that. Actually showing the flaggers how to do their job.
I didn't see it—that jump is fairly straightforward. What did AP do?
He ended up washing the front going over it. That's how we all felt. It seemed like a pretty natural jump and routing thing. So, for that to happen, it was just unfortunate, one of those things. This track's always tricky. It's rutty. I think a lot of things tend to come up and bite you here. I don't know if it's the altitude and your focus gets dropped just enough to mess you up. That happened, and then unfortunately Dylan comes through the pack there with Savatgy and Martin and ended up hitting [Nico] Izzi and going down while he lapped him. One of those days.
Mitchell Harrison with good starts again, huh?
Yeah, quietly Mitchell was great today. I think maybe eight, nine or something. He did a really good job. We stay in the top 10 every weekend and we still got all four guys in the top 10 again this weekend. It's a big deal. Colt's [Nichols] so bummed out on his second moto, but 12th to be your bad moto? And how he came prepared into the season, there's nothing to be upset about or mad, in my opinion.
He averaged 15th overall in Nationals last year, and he's averaging a fifth so far coming into this week.
That's what I mean. I think it's something you've got to realize what you came from, what you've built from, and obviously the prep time leading into this. He's blowing me away.
How's AP?
He's fine. He was just bummed. The bike was pretty mangled. Came back and had some issues with that, just from people landing on it. I think he's more angry than anything.
Decent day for you.
For sure. I think it was overall I thought a really good day. Just sometimes you just make those mistakes that don't translate into results that they deserved.
And Nick Wey the hero?
I would say he'd be the vote for my purple heart today, yeah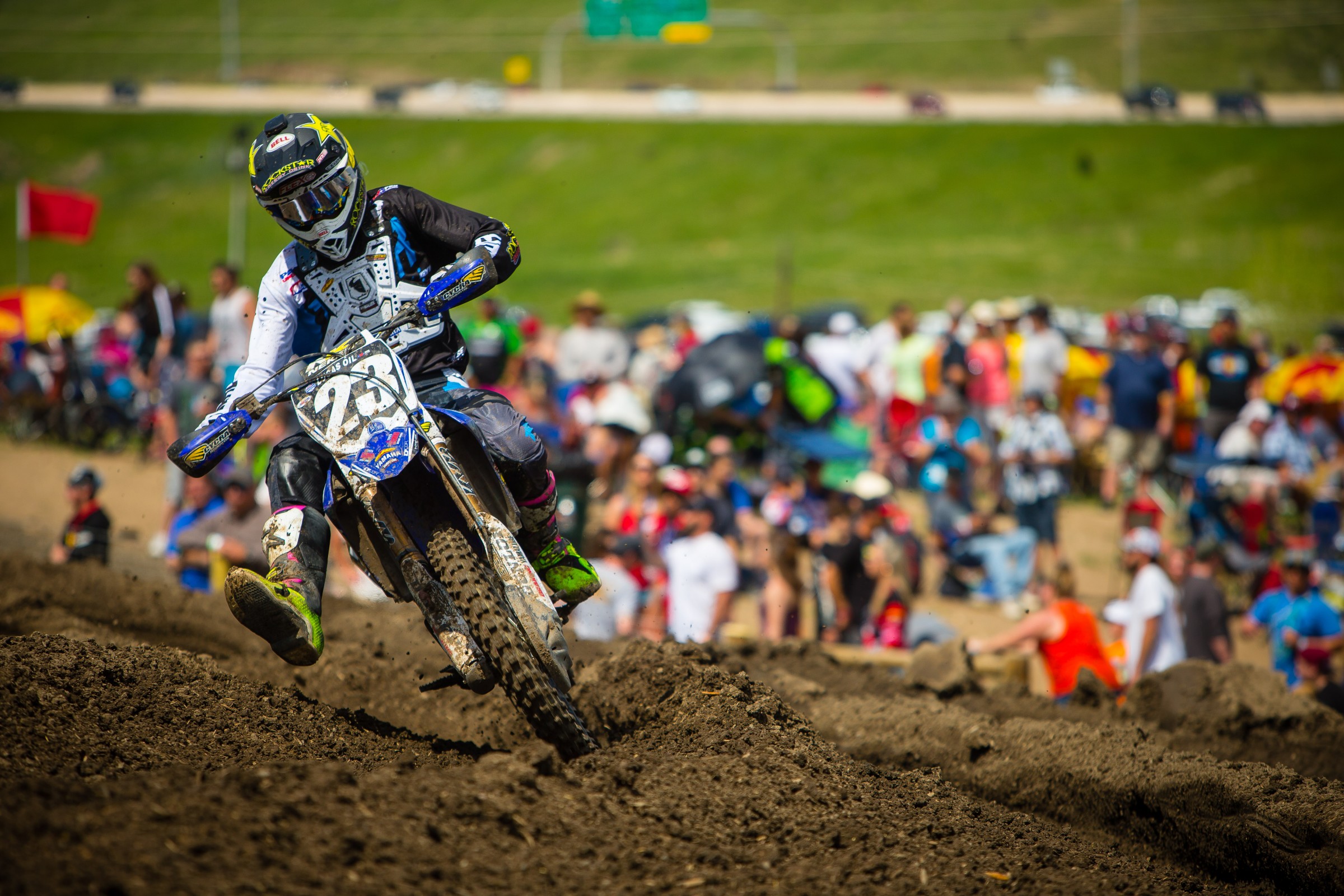 Racer X: We talked last week at Hangtown. We were very happy. You rode great. This week we're not so happy.
Tickle: Eight-eight for eighth is not terrible, but I definitely didn't take advantage of the starts. I didn't feel comfortable with the track. I wouldn't say it was my bike. I think it was just me in general with hard-packed ruts. The track this year was a little different than in years past. I feel like it was hard-packed and the ruts were gnarly. It was tough to ride. So, I really didn't become one with the track all day, and kind of struggled and fought it. So, that's kind of why my results I feel like were where they were. With that being said, I'm looking forward to more starts like that.
Suzuki city up front, bro.
That was awesome. First start since Muddy Creek last year. For me, a lot of positives, but frustrated that I didn't take advantage of the opportunity. Obviously, points are still tight. I got enough points today to stay in the hunt, to be in there. So, I'm ready to head to High Point. Even last year I didn't really get the ball going until High Point. So, High Point I think was first top 10 of the year. Prior to that Glen Helen, Hangtown, here was shit. Looking forward to High Point, Muddy Creek, RedBud, Budds Creek, Unadilla … all those tracks on the East Coast. We're in a good place. That was awesome for [Justin] Bogle to get that moto win. We've been working hard at what we've been doing. I feel like both of us are in a good spot and I'm going to feed off that. I definitely feel like if he can do it, I can. That shows the class right now. It's competitive and everybody's on top of their game. I think for all of us it's going to be about getting the start and taking advantage of it and riding your own lines and feeling it out.
And you had a fire today.
We were trying to bring the heat here, you know what I'm saying?
Well, you brought it. Bogle brought it.
First win for RCH since Kenny [Roczen] left. We brought the heat.