Sam Boyd Stadium
Las Vegas

,

NV
Race Center: Las Vegas
Monster Energy AMA Supercross Championship
Comment: Aeck fractured two vertebrae, broke multiple ribs, and hurt his shoulder in Arlington. To contribute to his recovery fund go here.
Jimmy Albertson – Various
Comment: Albertson underwent surgery recently to have his T2 through T8 vertebrae fused after a bad crash in Daytona left him with a fracture of the manubrium and body of the sternum (posteriorly displaced by 1cm), fractured T5 through T7 vertebrae, compression of the T4 through T6, epidural hematoma at T5 (epidural space is the outermost part of the spinal canal), bilateral patchy lung contusions, and a left metacarpal fracture. You can help Albertson by donating to his recovery fund here.
Mike Alessi – Collarbone
Comment: Alessi broke his collarbone at press day in St. Louis and is out for Las Vegas.
Justin Bogle – Neck, Shoulder Stiffness
Comment: Bogle is riding this weekend and en route to Las Vegas. He had some neck and shoulder stiffness after he fell in East Rutherford and that's ultimately what kept him off the bike the rest of the day/night. He was back on the bike on Monday and had a great week of preparation heading into this weekend.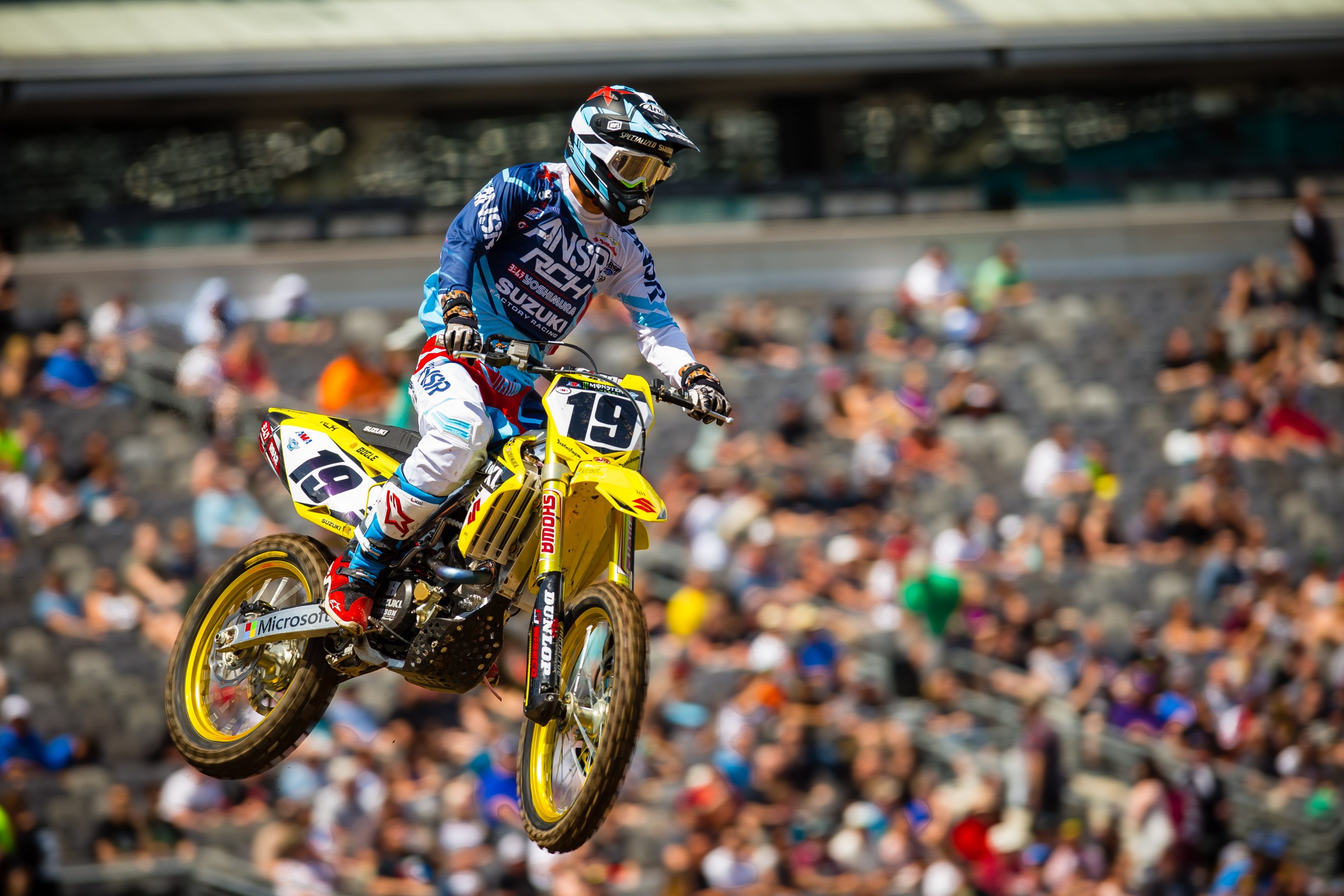 Comment: Canard recently injured his collarbone in practice and will miss Las Vegas. There is currently no timetable on his return.
Davi Millsaps – Wrists
Comment: Millsaps has been racing with hurt wrists and will take time off after Las Vegas to have surgery.
Cody Gilmore – Concussion/Back
Comment: A big crash on the start of the 450SX LCQ in St. Louis resulted in a concussion, a fractured C3, C7, and T1 vertebrae for Gilmore. He's out for the season.
Weston Peick – Wrist
Comment: Peick is back riding and will be ready for Hangtown. We recently got an update from Weston.
Comment: Roczen is out for the foreseeable future after a big crash at Anaheim 2 left him with injuries to his wrist, elbow, and radius (forearm). Christian Craig will fill-in for him in Lucas Oil Pro Motocross.
Cole Seely – Leg
Comment: Seely returned to racing in East Rutherford after missing a few races with a torn adductor muscle. Unfortunately he reinjured it during the main event last week and will miss Las Vegas. Christian Craig will fill in for him this weekend.
Broc Tickle – Wrist
Comment: Tickle fractured a bone in his wrist while practicing and will miss Las Vegas.
Chris Alldredge – Various
Comment: Alldredge is out for the season after a big crash in Seattle. Shortly after Alldredge listed his injuries on Instagram:
"Staying in Harbor View Hospital for a few days. Partially Collapsed Lung, small bit of Air in my Chest, Grade 1 Lacerated Liver and Adrenal Gland which are still bleeding a very small amount. Fractured 10th Rib, Fractured Pelvis, and Fractured L1, L2, L3, and L4 in my Lower Lumbar. Thanks for all the get well wishes, and be sure to send lots to @noahmcconahy59 as well." He's out for the season.
Comment: Bisceglia broke his leg while practicing at Glen Helen. The team is hoping he can be back racing at the High Point National.
Benny Bloss – Shoulder/Humerus
Comment: Bloss will be back for Lucas Oil Pro Motocross after fracturing his humerus and dislocating his shoulder in Minneapolis.
RJ Hampshire – Tib/Fib
Comment: Hampshire broke his tib/fib in Toronto but should be ready for Lucas Oil Pro Motocross.
Logan Karnow – Back
Comment: Karnow crashed during qualifying in Detroit and fractured his T1-T3. He had surgery and is out indefinitely.
Chase Marquier – Shoulder
Comment: Marquier went down in Seattle and broke his scapula and dislocated his shoulder. He had his scapula surgically plated and will miss the rest of the season.
Alex Martin – Back
Comment: Martin is out for the remainder of the supercross season after crashing hard in Detroit.
Jeremy Martin – Back
Comment: Martin recently crashed in practice. He's missed multiple races and will sit Las Vegas out in an effort to be completely ready for Lucas Oil Pro Motocross.
Noah McCononahy – Back
Comment: McConahy was involved in the same crash as Chase Marquier was in Seattle and broke his L5 vertebra. He's out for the season.
Colt Nichols – Knee/Tibia
Comment: Nichols tore his MCL and suffered a fracture to the tibia while practicing. He's out for the rest of the supercross season.
Phil Nicoletti – Ankle/Heel/Fibula
Comment: There's a chance Nicoletti will be able to race a few Nationals at the end of the 2017 Lucas Oil Pro Motocross Championship after dislocating his ankle, shattering his heel, and fracturing his lower fibula on press day in Arlington.
Comment: Reis is out for the season with a torn ACL and MCL, but he's determined to make it back sooner rather than later.
Jerry Robin – Rib
Comment: Robin will miss Las Vegas after fracturing a rib during practice in East Rutherford. He plans on being back for Lucas Oil Pro Motocross.
Chase Sexton – Femur
Comment: Sexton broke his femur during practice in Atlanta and will miss the rest of Monster Energy Supercross.
Bradley Taft – Concussion
Comment: Taft hopes to be back for Lucas Oil Pro Motocross after suffering a concussion before A2.