Matterly Basin
Winchester

,

United Kingdom
Race Center: Motocross of Nations
Motocross of Nations
The Motocross of Nations isn't scored like your typical motocross event. So how is it actually won? Each team sends two riders to the gate in each moto. Moto one is MX2 (250Fs) and MXGP (450s, considered the premier class). Moto two has MX2 and the Open class (also 450s), and moto three features all 450s, with MXGP and Open. Each finishing position is a point (1 point for first, 2 points for second, etc.), and the team with the lowest point total wins the event. Here's a critical part: riders are scored solely on their overall finish. If a 250 rider finishes fifth, the team gets 5 points; it doesn't matter where the other 250 riders finished. In the old days, finishing second amongst the 125s gave you 2 points, even if it was 10th overall. These days, everyone is scored together.
The Drop
Each team drops one score, so five of six finishes count. Keep this in mind as you try to calculate results during the day. If you're watching the race live on MXGP-TV.com, the scores after the second moto will be way, way off, because, with only four finishes at that point, each team's score will be calculated using all of its finishes. When teams throw their bad result out, things will change drastically. So, before moto three, the best bet is to look at the three best finishes from each team instead of all four. It's a more accurate way to see where things stand.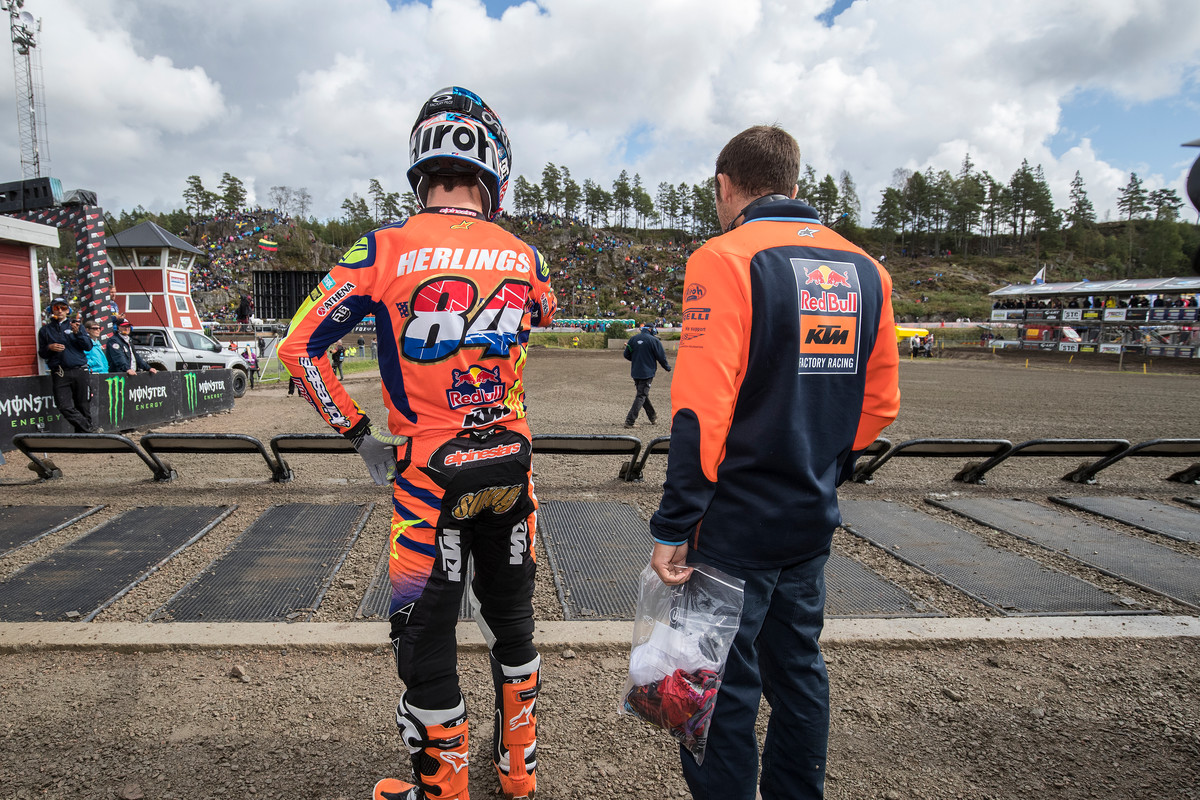 Saturday's qualifying races determine gate picks. There will be one moto for each class on Saturday. Each team's best two motos are then calculated to determine Saturday's overall ranking, which becomes Sunday's gate pick order. Since each team sends two riders to the gate in each race, each team gets two gates. The best team from Saturday gets gate choices #1 and #21, the second best gets picks #2 and #22, etc. One huge part of this event is deciding where to start your 250 rider. Down on power, he'll have a tough time getting a start, so do you give him your better gate to help? Do you just assume his start will suck anyway and give the good pick to your 450 rider, who could potentially holeshot and win? This is especially important because GP tracks usually have starts designed to favor better gate picks (which makes Saturday's racing more important) more so than we see here, where holeshots often can come from 20 different gates in the middle. With gate picks being so critical, assume that each team will have one rider with a good start and one rider with a bad start in each moto.
The Streak
Team USA is in the midst of a five-year losing streak at the Motocross of Nations, marking the first time since 1997-1999 that the United States has lost three or more consecutive years. (We didn't send teams in 2001 and 2002.) Jeff Ward, part of seven wins at the Motocross des Nations for Team USA, explained the pressure that this event puts on riders: "The pressure, I think, is personally bigger because it's not just you that you let down, now the whole country is on you. Pressure will be a big factor." When you're a member of the winnginest nation in the history of the event, which hasn't won in five years, the pressure only intensifies.
The Streak, Part II
On the other end of the spectrum is Team France, winners of the last three Motocross of Nations. Prior to the start of "the streak" France had only captured the Chamberlain Trophy once (in 2001, when Team USA did not send a team), in the history of the event, which dates back to 1947. The French revolution has been led by Gautier Paulin (a member of all three wins) and Romain Febvre (a member of two wins). They were favorites for a fourth-straight victory before injuries beset the team. Both Dylan Ferrandis and Benoit Pautrel are out for MX2; Marvin Musquin is out as well. Instead of reaching out to Jordi Tixier or Christophe Pourcel, the team went another direction: plucking former Grand Prix rider Christophe Charlier out of the EnduroGP championship. Charlier was previously a member of the team in 2013, and went 9-30 in the Open class. If France is to win for a fourth straight time, Charlier will be the key.
The Home Team
Great Britain enters the weekend with a great chance at garnering their first win at the event since 1994, and ending a nearly 20-year podium-less streak. Max Anstie, Dean Wilson, and Tommy Searle (dropping down to the 250) form a strong trio, with a racous home crowd certain to factor in. Searle explained to Racer X earlier this week that even a podium would signify a successful weekend, but a win could be in the cards as well: "I've never been on the podium at the Motocross of Nations. If we were to stand on the podium, I would be happy with that. I think the whole of Great Britain want us to be up there and the crowd around the podium at the end of the day, I think it would make everyone's weekend. I don't see a reason why we can't win if everything goes our way. There is a lot of luck involved in this event, so if everything goes our way, I don't see any reasons why can't win." We'll see if the Brits can end the drought this weekend.
Head-to-Head
Sure, the team aspect of the event is what draws, but another interesting storyline to watch is individual matchups that we rarely get to see during the season. Here are a few riders to keep an eye on in each class.
MXGP
Gautier Paulin (France)Glenn Coldenhoff (Netherlands)Cole Seely (United States)Jeremy Van Horebeek (Belgium)Antonio Cairoli (Italy)Arnaud Tonus (Switzerland)Max Anstie (Great Britain)Dean Ferris (Australia)Evgeny Bobryshev (Russia)Max Nagl (Germany)
Tim Gajser (Slovenia)