Click on images to enlarge
IS FRANCE THE NEW DES NATIONS DYNASTY?
If France keeps winning the Motocross des Nations, they will catch up to Team USA in the record books around 2034. The 2017 victory was their third in a row and fourth overall. But, if we can talk a couple of big-name AMA factory stars into signing up in 2033, we will keep the record alive.
MX DES NATIONS WINS BY COUNTRY 1. United States of America…22 2. Great Britain…16 3. Belgium…15 4. Sweden…7 5. France…4 6. Russia…2 7. Italy… 2
8. Czechoslovakia…1
9. Germany…1
MXA PHOTO OF THE WEEK: IF PETER FONDA RACED THE MXDN
Team USA was on the ropes when Cole Seely's Honda CRF450 rear suspension collapsed in the first MXDN moto, but was totally toasted when Seely went out for his second moto and the suspension broke again. With his choppered out bike, Seely ended up with a 33-38 score. Seely lost more points in one DNF than the third place team earned with five moto scores. Team USA finished 9th overall. Photo by Adam Duckworth/motoheadmag.com
MXA AD OF THE WEEK: DO YOU FEEL LIKE BUYING ITALIAN
Cagiva was the most successful Italian motocross brand in the USA — until Husqvarna, which Cagiva had purchased, sold twice and was bought by KTM from BMW.
POST-SEASON OR PRE-SEASON NEWS?
DAVI MILLSAPS REPLACES CHAD REED: Keith McCarty, Motorsports Racing Division Manager for Yamaha Motor Corporation, U.S.A., said, "We're excited to welcome Davi to our Yamaha Factory Team. He's had a great career so far, and he's been a terrific ambassador for our sport. Davi has been testing his 2018 YZ450F, and he is looking forward to competing aboard the brand-new bike at the upcoming Monster Energy Cup."
JUSTIN HILL SWITCHES TEAMS AGAIN: Justin Hill doesn't seem to stay at any one team for very long. Now, for 2018, he will take his AMA 250 West number 1 plate from Pro Circuit to JGR. Justin said, "It's an honor to be a part of the Autotrader/Yoshimura/Suzuki Factory Racing effort. I have known team manager Jeremy Albrecht for a while now, and have always respected the JGRMX program," said Justin Hill in announcing his switch from the Pro Circuit team to the JGR Suzuki squad. "I was blown away after taking a tour of the team's headquarters in Huntersville, N.C. It's amazing how they invest so much time and money into finding solutions in an effort to gain a competitive edge. I knew immediately that I needed to be involved with them."
THOMAS COVINGTON GETS SURGERY: Thomas Covington wrote on his Instagram page, "Some bad news this morning guys. I've just left the doctor and found out I tore my ACL in the qualification race Saturday in England. I had quite a bit of pain Sunday but didn't want to accept it. Only wanted to focus on getting USA to the podium. I'll be having surgery tomorrow morning and starting recovery as soon as possible to be ready for the 2018 season!"
HUNTER LAWRENCE CASHES IN: Australia Hunter Lawrence set the world on fire in his rookie 250 GP year—winning the 250 class at the MXDN last weekend. With the Suzuki Grand Prix team folding its tent and giving up, Lawrence was paid his Suzuki salary for next year and immediately signed a four-year deal with the Geico Honda team to move to America in 2019. He will race the 2018 250GPs for the 114 Motorsports Honda team (managed by Livia Lancelot). Hunter said, "To join Geico Honda and their list of riders past and present is an honor. My family gave up a lot to get me to this point so the decision to sign with Geico was a big one for us. They felt like family from the minute we started talking and are giving me support next year with 114 Motorsports Honda to win a world title. Then I will make the move to the U.S. full-time in 2019."
MARTIN DAVALOS TO CELEBRATE 12TH BIRTHDAY: Martin Davalos was let go by the Rocstar Husqvarna team after the 2017 AMA Nationals, but has rebounded back with a return to the Pro Circuit Kawasaki team for 2018. Davalos raced for the Pro Circuit team in 2013 and 2014). This will be Martin's 12th year in the 250 Supercross series. Pro Circuit's Mitch Payton said, "We have a great team for the 2018 season I am looking forward to watching our riders and helping them reach their full potential. I have high expectations for them and know they will all do well each weekend."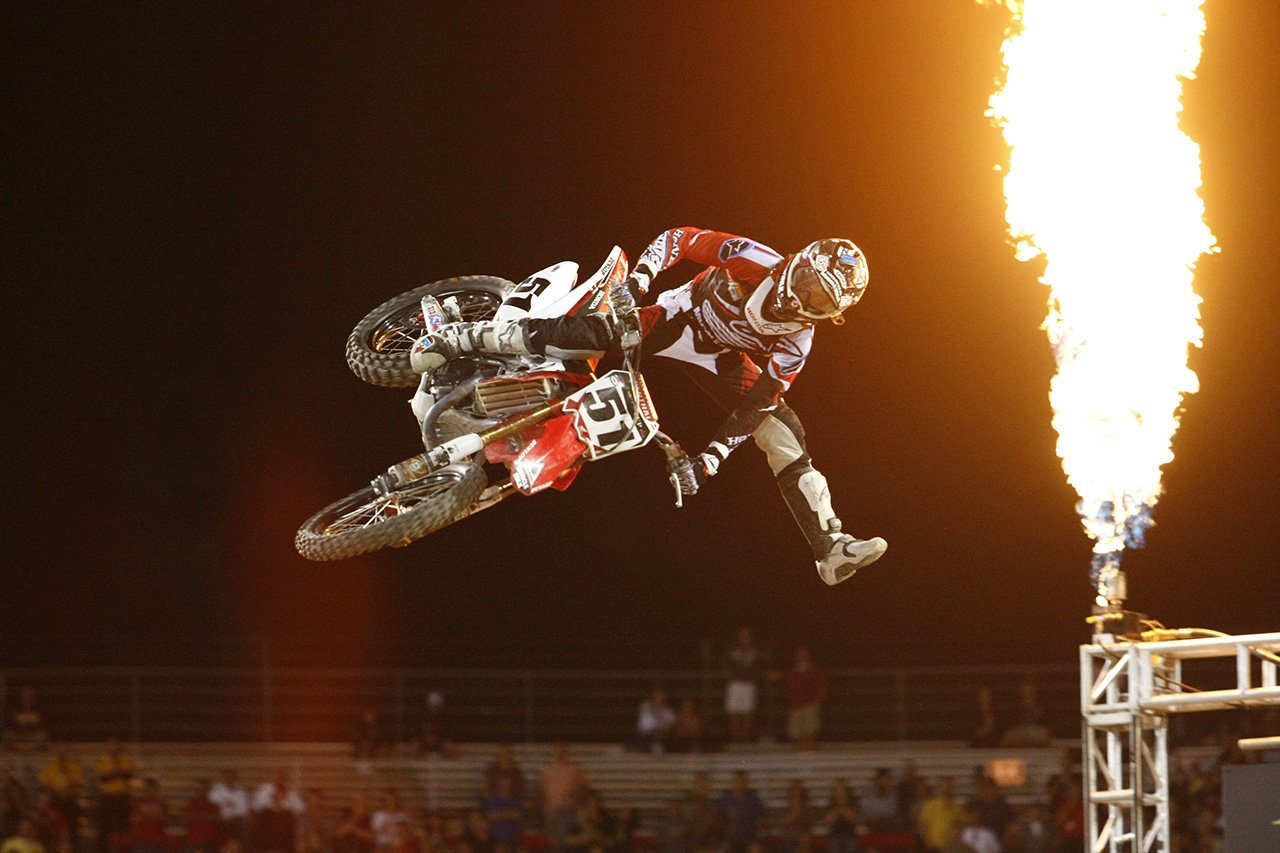 JUSTIN BARCIA LOOKING FOR GIG: Justin Barcia, let go from the JGR Suzuki team will race a private Honda CRF450 at the 2017 Monster Cup on October 14. Barcia said on his Instagram page, "I am extremely excited to announce my plans for the Mosnter Energy Cup. On October 14 I will be riding a privateer Honda. I am extremely appreciative and grateful for all the support that is going into this project."
JOSH GRANT TO BE BACK AT MONSTER CUP: Josh Grant will be returning as Eli Tomac's teammate at the Mosnter Ebergy Kawasaki team for 2018. Grant finished the 2017 Supercross season in the top 10, confirming he is still a strong contender after 10 years in the premier class. After a solid start to the motocross season with multiple podium finishes, Grant was forced to end his season early after only competing in six rounds due to injury. Grant has since recovered and has been putting in laps as he prepares to join his teammate on the line at the Monster Energy Cup.
DOWNHILL STARTS & WIRE MESH: Although the X Games used to have downhill hills starts in some of their oddball motorcycle events in the past, it appears to have caught on in the real world—as both the Monster Cup and the Motocross des Nations adopted it. When you add in wire mesh starting pads you elminate a lot of variables in getting a good start. It's doesn't make getting the holeshot any easier, but it gets a lot more people to the first turn at the same time.
BIRTHDAY BOYS: "FLYIN' BRIAN" & TP199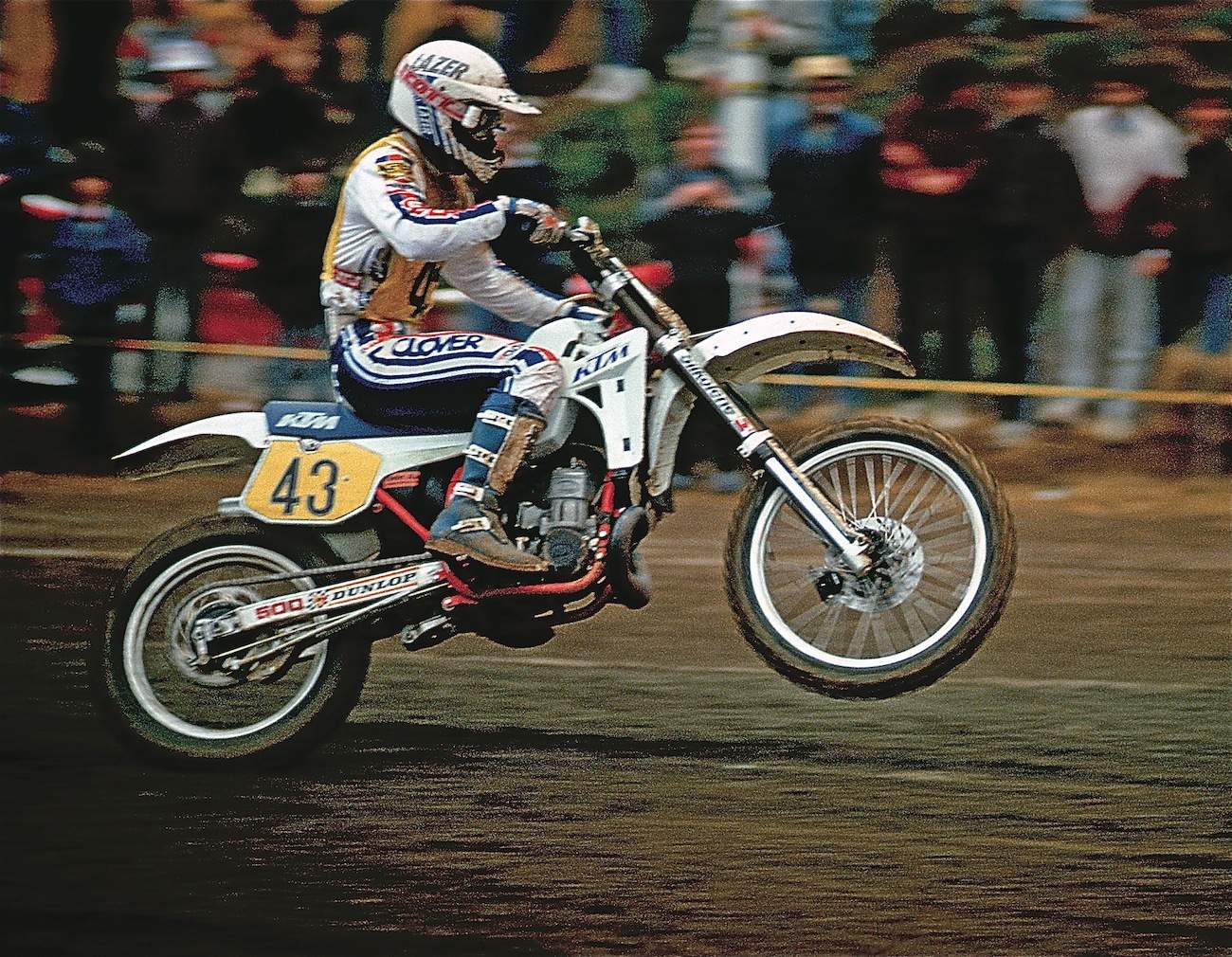 Oct. 5…Danny Chandler 1959
Oct. 5…Johnny Marley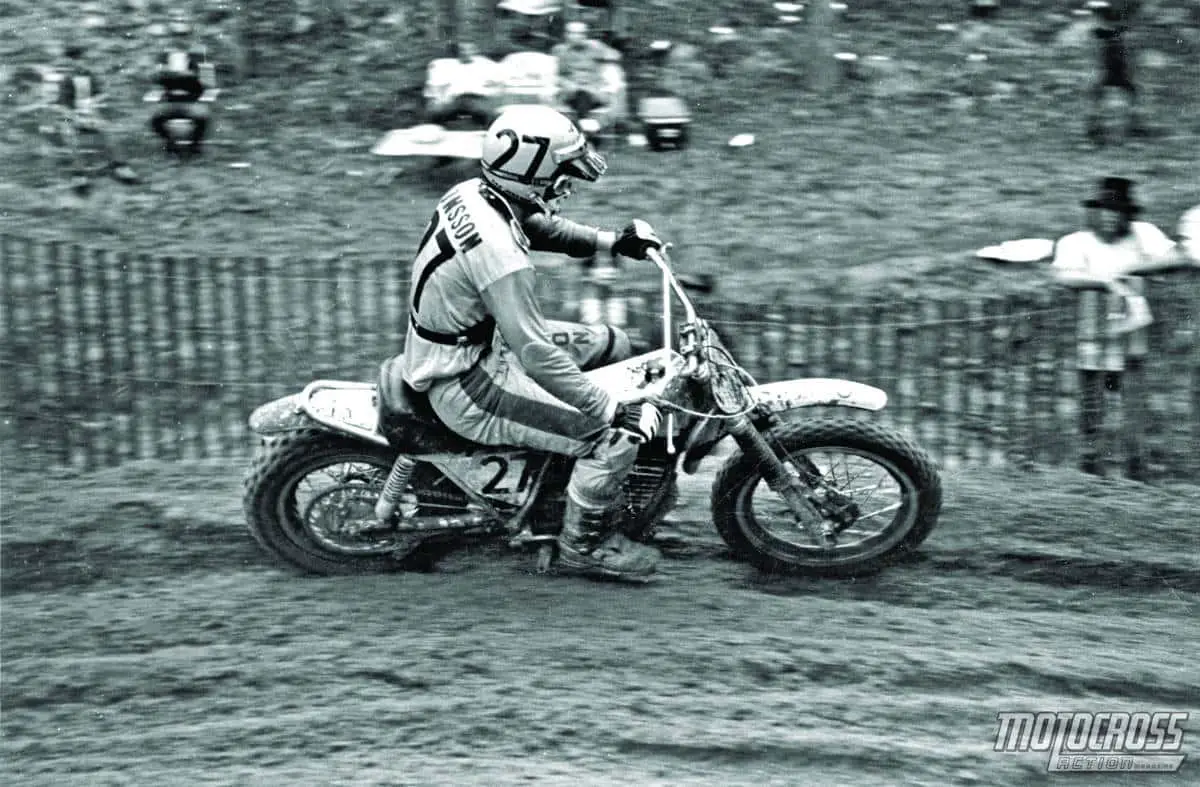 Oct. 5…Ake Jonsson 1942
Oct. 5…Randy Valade

Oct. 6…Brian Gray 1984
Oct. 7…Randy Lawrence
Oct. 7…John Basher Oct. 7…John Ayers
Oct. 7…Ted Campbell

Oct. 8…Brian Myerscough
Oct. 8…Les Smith 1990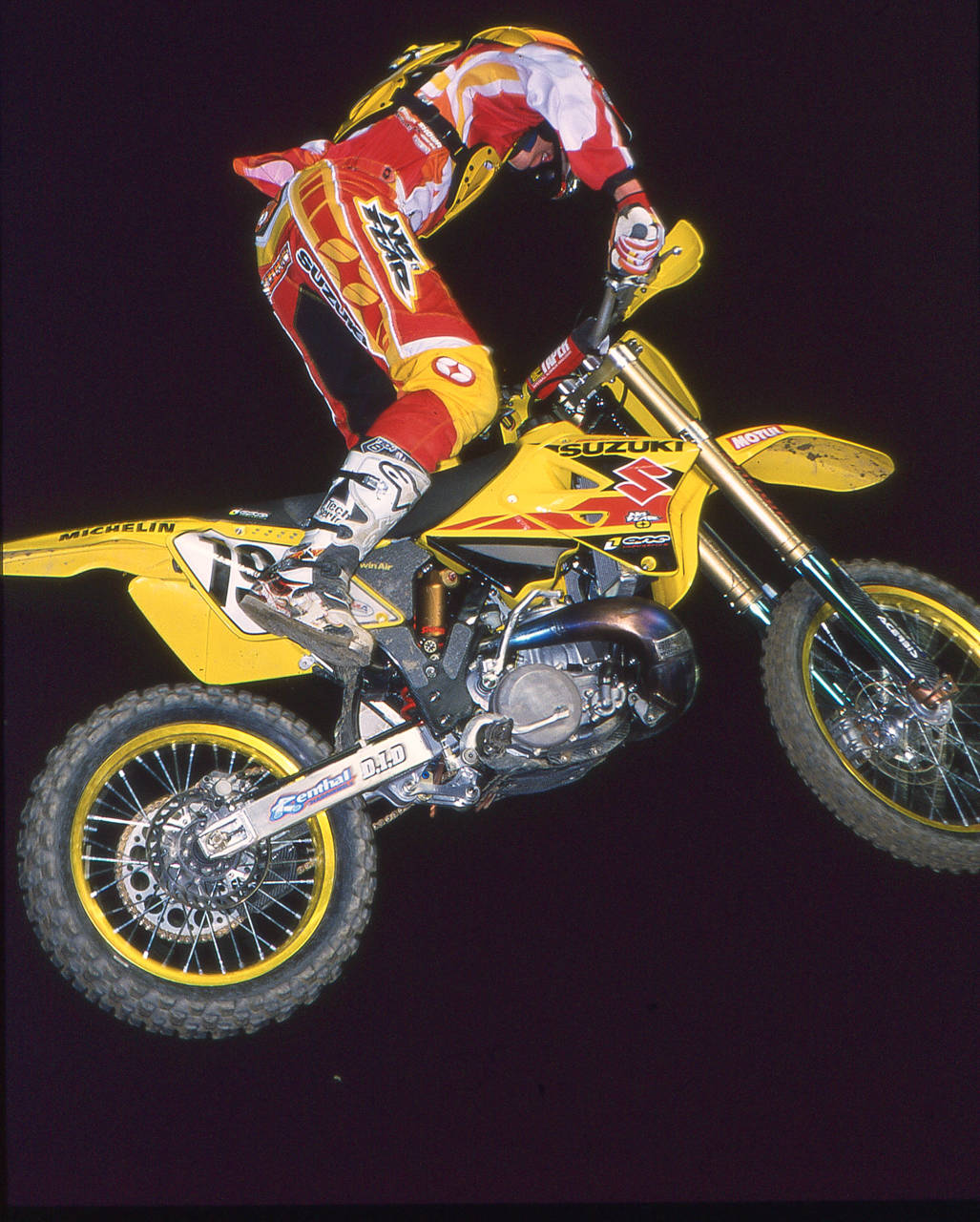 Oct. 8…Travis Pastrana 1983
Oct. 10…Jeff Cernic
Oct. 10…George Kohler 1952
NEXT WEEK'S MONSTER ENERGY CUP TRACK
MXA PRODUCT SPOTLIGHT: SWITCH HAULER BUMPER CARRIER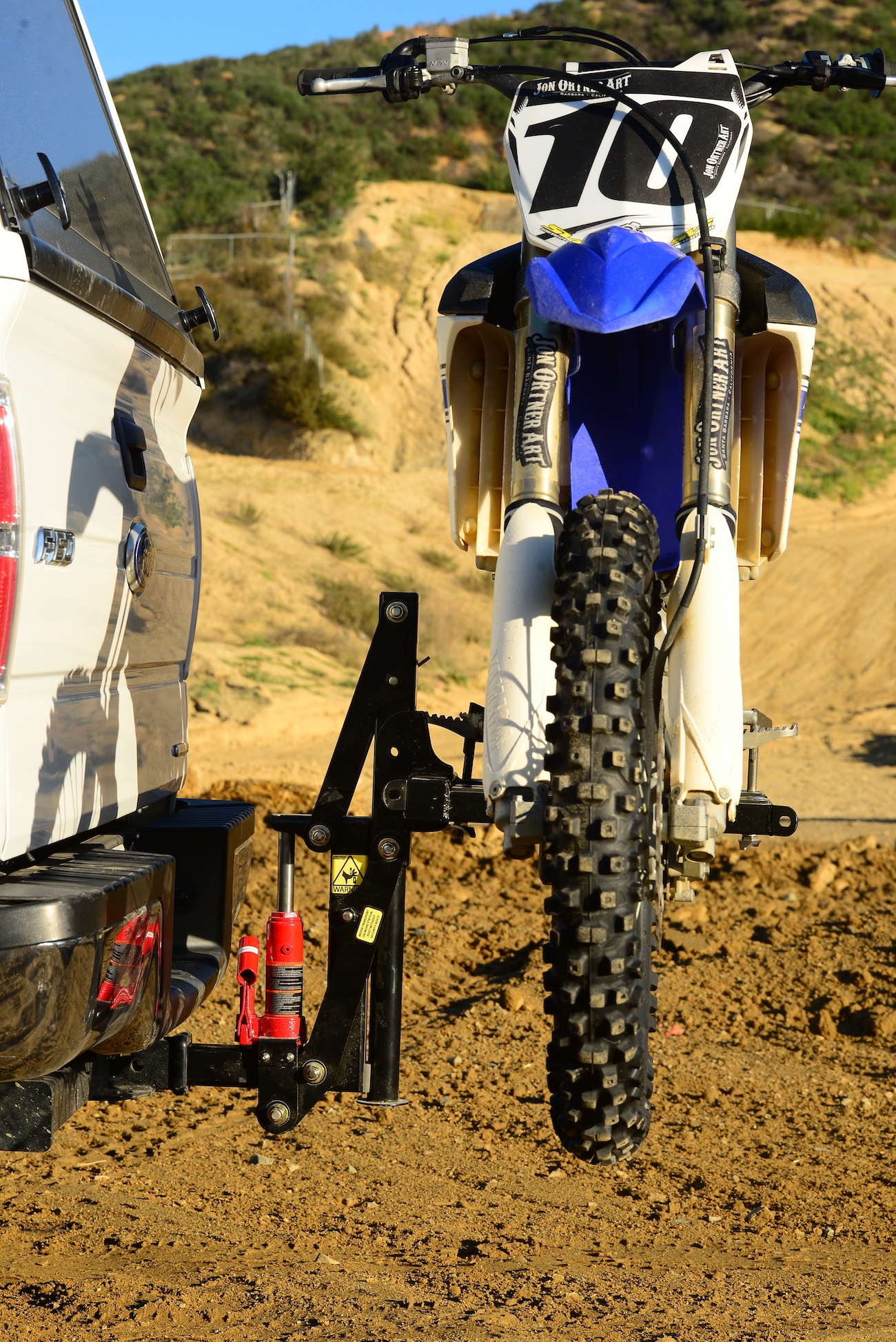 MXA has considerable experience with the Switch Hauler from All-Jacked-Up Inc. It is the strongest, most durable, bumper carrier on the planet. Not only does it come with footpeg restraints, strap eyelets and the ability to carry a 300-pound load, the Switch Hauler is a modular package, that breaks down to a nice, easy to store package when you get home. After all, who has room in their garage for a big bulky ramp or awkwardly configured contraption that doesn't fit anywhere? With the Switch Hauler you're not limited to the trailer speed limit, a few lanes on the road, prohibited from the carpool lane and it doesn't need a ramp because it lowers itself down to bike height. If you don't want to pull a trailer, mount a Switch Hauler on the back and take what you need to where you're going.
This Switch Hauler comes in three drop hieghts: a straight tongue design with no drop, 2 inches of drop and 3-1/4-inches of drop to insure that it works with every size truck and Class III or better receiver. The modular design means that the Switch hauler is amazingly simple to install right out of the box. The retail price varies from $449.00 to $479.00. For more info go to (760) 500-3397 or www.alljackedupinc.com.
SWITCH HAULER VIDEO

TEASERS FROM THE GREATEST MOTORCYCLE MOVIE OF ALL-TIME
BIKES YOU'VE NEVER SEEN BEFORE: CZ POWER? EZ?

A clean looking Bultaco Pursang with a CZ powerplant. For some unknown reason motocross riders loved to put Czechoslovakian engines in whatever they could squeeze them in.

Jody Weisel's single-shock CZ in 1980.
The 1969 CZ 350 Type-860 GP road racer had a V-four, four-stroke engine, eight-speed gearbox and turned 16,000 rpm. Only three were ever produced.
The simplest CZ modification of the 1980s was to stuff a CZ engine into a twin-shock Husqvarna frame. All it took was a set of custom motor mounts and an exhaust pipe—everything else lined up.

An Italian-made TM MX300 with CZ graphics and engine cases was sold in the Czech Republic by MCF in 2015. See the brochure below.

REM AT GLEN HELEN ON SATURDAY, OCT. 7

For more info go to www.remsatmx.com.
MINI MADNESS PIT BIKE RACE AT BARONA OAKS ON OCT. 7

This is a four-stroke-only mini pit bike race with classes for all sizes of four-stroke minis. Additionally, there are class for riders over 200 pounds, Girl-only class, 1980 and older minis, pull start minis and Over-40 vets. For more info go to www.burnerdesignusa.com
MOTO BEACH CLASSIC: FLAT TRACK, SURFING AND DRAGS AT BOLSA CHICA BEACH ON OCT. 14

For more info go www.motobeachclassic.com.
2017 WORLD VET MOTOCROSS CHAMPIONSHIP ON NOVEMBER 4-5


The Dubya USA-sponsored World Vet Championship will be held on November 4-5, 2017, at Glen Helen Raceway Park in SoCal. Pre-registration is already open. Click here to sign-up or see the available classes and age groups.
TAKE TO THE STREETS! 2017 ELSINORE GRAND PRIX ON NOV. 10-12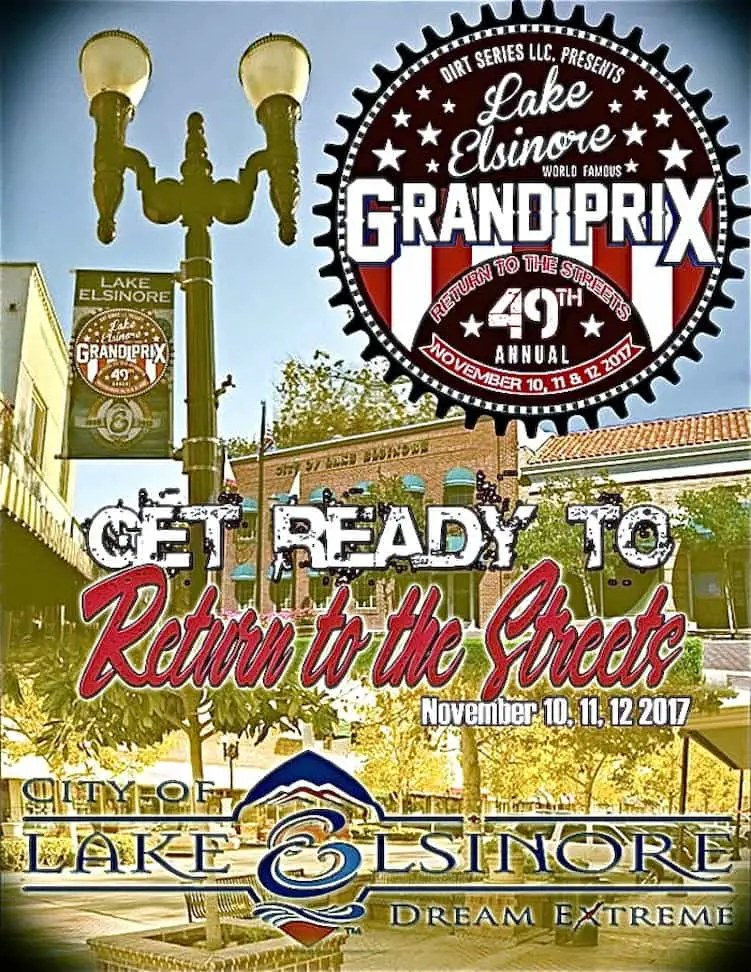 It will be held on Nov. 10-11-12. For more info go to www.elsinoregrandprix.com
THE PARIS SUPERCROSS ON NOVEMBER 18-19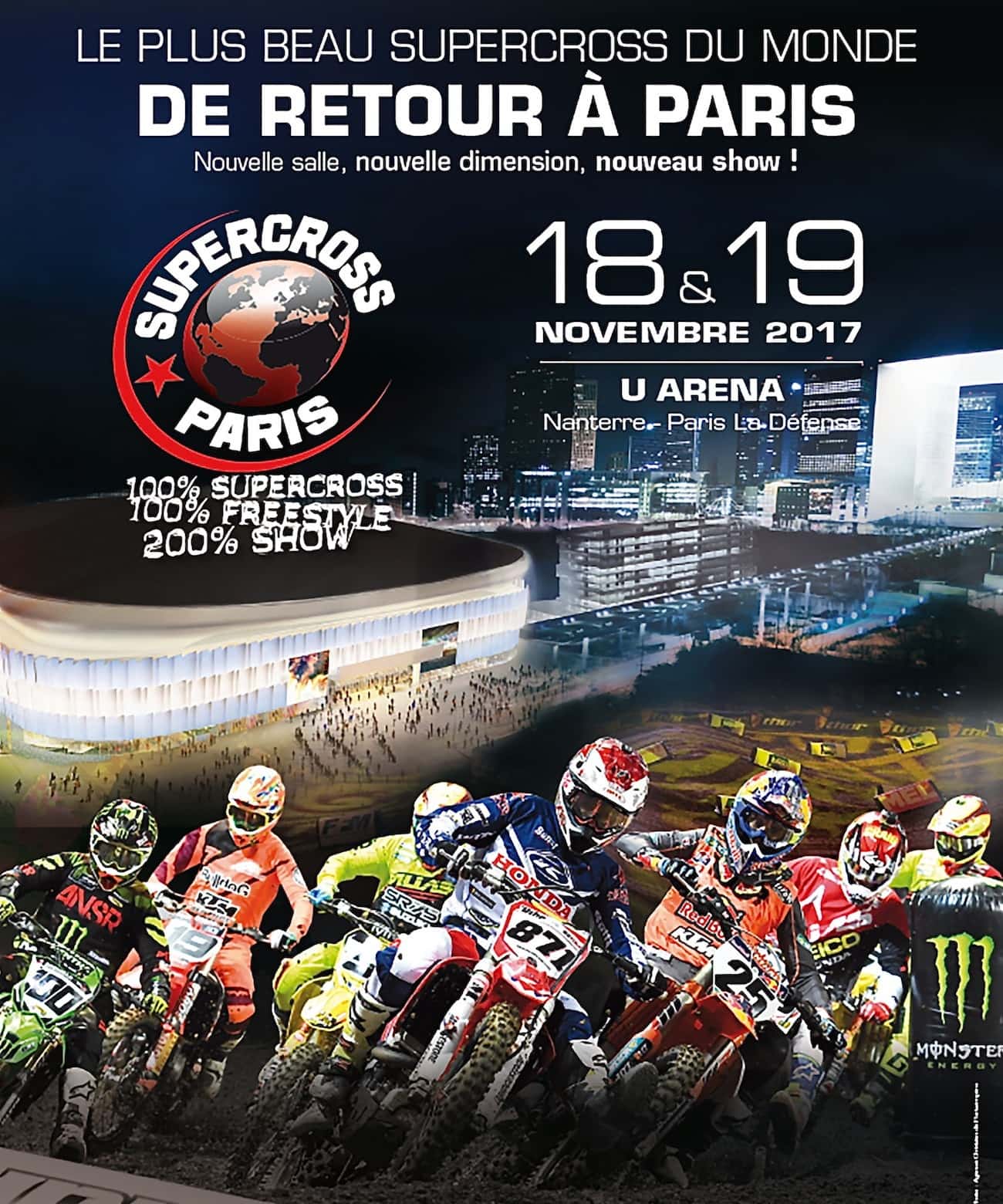 The 2017 Paris Supercross will move to the brand new U-Arena in the Paris business district. The U-Arena seats 24,000 spectators and has a larger floor area than Lille or Bercy. The 2017 Paris Supercross will be held on November 18-19, 2017.
2017 THOR MINI OLYMPICS TO BE BACK AT GATORBACK ON NOV. 20-25
For more information go to www.unlimitedsportsmx.com
SUBSCRIBE TO TWO MAGAZINES AT ONCE & GET $50 IN ROCKY MTN. GIFT CARDS
Do you subscribe to MXA? You should. We know that you think that print magazines are dead and that the internet will fill the void, but most of the stuff in the current issue of MXA won't appear on the web for several months, if at all. Luckily, you can get all of MXA on your iPhone, iPad, Kindle or Android by going to the Apple Store, Amazon or Google Play or in a digital version. Even better you can subscribe to Motocross Action and Dirt Bike at the same time and get $50 in Rocky Mountain ATV/MC gifts cars to spend on whatever motorcycle parts or products you need. You can call (800) 767-0345 or go to www.hi-torque.com/mxcombo.
WHAT'S LEFT TO SEE IN 2017

The attention will now turn to Straight Rhythm, Monster Cup, Australian Supercross Championship and the World Vet Championship.

2017 AUSTRALIAN SUPERCROSS CHAMPIONSHIP
Sept. 23…………………..Jimboomba
Oct. 10……………………Bacchus Marsh Oct. 17……………………Virginia Nov. 11-12………………Qudos Bank Arena
Nov. 18………………….Jimboomba
2017 MONSTER ENERGY CUP
Oct. 14…………………….Las Vegas, NV
RED BULL STRAIGHT RHYTHM IV
Oct. 21………………….….Pomona, CA
2017 DUBYA WORLD VET MOTOCROSS CHAMPIONSHIP
Nov. 4-5………………..….Glen Helen, CA
2017 THOR MINI OLYMPICS
Nov. 20-25……………….Gainesville, FL
2017 WORLD OFF ROAD CHAMPIONSHIP (WORCS)
Jan. 6-8…………………….Taft, CA
Jan. 27-29…………………Primm, NV
Feb. 17-19………………….Taft, CA
Mar. 10-12…………………Lake Havasu, AZ
Apr. 1-2…………………….Las Vegas, NV
Apr. 21-23…………………Hurricane, UT
May. 19-21…………………Cedar City, UT
Jun. 16-17…………………Glen Helen, CA
Sept. 8-10…………………Glen Helen, CA
Oct. 6-8…………………….Adelanta, CA
2017 ADAC GERMAN MASTERS CHAMPIONSHIP
Apr. 9……………………….Muhlberg
Apr. 30…………………….Jauer
May 14…………………….Molln
June 18……………………Bielstein
July 16…………………….Tensfeld
Aug. 27……………………Gaildorf
Sept. 24…………………..Holzgerlingen
2018 MOTOCROSS RACE SCHEDULES
The 2018 Supercross schedule starts on Januray 6, 2018 at Anaheim Stadium, before going to Houston on January 13.

2018 AMA SUPERCROSS CHAMPIONSHIP Jan. 6……………………..…Anaheim, CA Jan. 13………………………Houston, TX Jan. 20………………………Anaheim, CA Jan. 27………………………Glendale, AZ Feb. 3……………………..…Oakland, CA Feb. 10………………………San Diego, CA Feb. 17………………………Arlington, TX Feb. 24………………………Tampa, FL Mar. 3……………………..…Atlanta, GA Mar. 10………………………Daytona, FL Mar. 17………………………St. Louis, MO Mar. 24………………………Indianapolis, IN Apr. 7……………………..…Seattle, WA Apr. 14………………………Minneapolis, MN Apr. 21………………………Foxborough, MA Apr. 28………………………Salt Lake City, UT
May 5…………………….…Las Vegas, NV
2018 FIM MOTOCROSS WORLD CHAMPIONSHIP Mar. 4……………………….Argentina Mar. 25……………………..Spain Apr. 8………………………..Italy 1 Apr. 15………………………Holland 1 Apr. 29………………………Russia May 13………………………Latvia May 20………………………Germany June 3……………………….England June 10……………………..France June 24……………………..Italy 2 July 8………………………..Indonesia July 22………………………Czech Republic Aug. 5……………………….Belgium Aug. 12……………………..Switzerland Aug. 19……………………..Sweden Sept. 2………………………USA Sept. 9………………………Mexico Sept. 23…………………….Holland 2
Sept. 30…………………….Italy 3
2018 MOTOCROSS DES NATIONS
Oct. 7………………………Red Bud, MI
2018 BRITISH ARENACROSS CHAMPIONSHIP Jan. 6…………………….Manchester Jan. 13……………………Newcastle Jan. 20…………………..Birmingham Jan. 26-27………………Belfast Feb. 10……………………Sheffield
Feb. 17……………………London
2018 WORLD OFFROAD CHAMPIONSHIP (WORCS) Feb. 2-4…………………Las Vegas, NV Feb. 23-25……………..Phoenix, AZ Mar. 23-24……………..Lake Havasu, AZ Apr. 20-22……………..Hurricane, UT May 25-27………………Cedar City, UT Sept. 14-16………………Glen Helen, CA Oct. 19-21…………….…Adelanto, CA
Nov. 9-11………………..Primm, NV
SEE THE 2018 KTM 450SXF IN ACTION
SEE THE 2018 YAMAHA YZ250F IN ACTION
SEE THE 2018 HUSQVARNA TE250i IN ACTION
SEE THE 2018 SUZUKI RM-Z450 IN ACTION
SEE THE 2018 HUSQVARNA FC450 IN ACTION
SEE THE 2018 YAMAHA YZ450F IN ACTION
SEE THE 2018 KAWASAKI KX250F IN ACTION
SEE THE 2018 KTM 350SXF IN ACTION
SEE THE 2018 HONDA CRF450 IN ACTION
SEE THE 2018 SUZUKI RM-Z250 IN ACTION
SEE THE 2018 KAWASAKI KX450 IN ACTION
Photos: Monster Energy, Adam Duckworth, Brian Converse, Dan Alamangos, Debbi Tamietti, Justyn Norek, Jody Weisel, Scott Mallonee, Massimo Zanzani, Honda, KTM, Husqvarna, Daryl Ecklund, MXA