Click on images to enlarge
MXA PHOTO OF THE WEEK: HOW CLOSE DO YOU GET?

Everybody loves to watch Pro racing, but often it looks like a Labor ay Parade with one float coming by every 15 seconds. Not so with local talent. They scrap it out. You don't have to look very far at a local race to see someone stuff it in—although not always underneath the other guy's engine. Robert Reisinger (96) and Mike Carter (50) demonstrate. Photo by Debbi Tamietti
MXA AD OF THE WEEK: NO WAY TO MAKE FRIENDS

Horst Leitner's ATK motorcycle company was a different. Obviously the bikes were different—in an age when every manufacturers was going to water-cooling, radiators and clone-like thinking, the Austrian designer was thinking outside of the box in his Laguna Beach workshop. This 1989 ad for the ATK 406 two-stroke ruffled a few feathers when it came out, but it delivered the message that Horst wanted—and spoke to riders who didn't want more complicated motorcycles.

WANT TO GO STRAIGHT? HERE'S THE PLACE
WHAT'S WORTH WATCHING? For the first time, Red Bull Straight Rhythm will introduce a two-stroke class featuring Chad Reed and Ryan Villopoto. The two-stroke class will be added in addition to the 450 and 250 class.
WHAT ARE THE TICKET PRICES? Red Bull Straight Rhythm general admission tickets are $35 per person with open seating. VIP admission is $175.00 per ticket and we are offering a 4-pack for $120.00 total ($30 each). Kids ages 6-12 are $15.00 and Kids 5 and under are free. General admission tickets can be purchased at the ticket booth the day of the event.
WHEN IS THE RED BULL STRAIGHT RHYTHM? Saturday, October 21, 2017.
WHERE IS THE EVENT? Pomona Fairplex at 1101 West McKinley Ave, Pomona, CA 91768
HOW DO I GET THERE? Exit I-10 in Pomona at the Fairplex Drive exit. Head north on Fairplex Drive and it will lead you directly into the venue.
WHERE DO I PARK? Parking is provided by the Fairplex and costs $10 per car.
RED BULL STRAIGHT RHYTHM RACE SCHEDULE 1:00 p.m.—Gates Open 1:30 p.m.—Geoff Aaron Trials Demo 2:00 p.m. —Two-Stroke Qualifiers 2:20p.m. – 250 Class Qualifiers 2:40 p.m. Open class qualifiers 3:00 p.m. – 5:30 p.m. Rider auatograph Signing, Vendor Village, Side Acts 3:30 p.m.—Geoff Aaron Trials Demo 4:40 p.m.—Traxxis Demo 5:00 p.m.—Exhibition Race 5:30 p.m.—National Anthem/Red Bull Air Force Jump 5:40 p.m.—Quarter Final Rounds begin (two-stroke, 250, 450) 7:00 p.m.—Semi Final Rounds Begin (two-stroke, 250, 450) 7:30 p.m.—3rd Place and Final Rounds (two-stroke, 250, 450)
8:00 p.m.—Awards Ceremony
2017 GRAND PRIX & MONSTER CUP NEWS
Australia Hunter Lawrence may have the the hot commodity on the 250 Grand Prix circuit in 2017, espec ially after his overall win in the 250 class at the MXDN, but that didn't stop him from becoming unemployed. Hunter had a two-year deal with Stefan Everts' Suzuki squad for 2018—but Suzuki pulled the plug on Everts team. Leaving every Suzuki Grand Prix rider out of work. Hunter Lawrence didn't know it was coming, but he found a new gig almost immediately.
He signed a four-year deal with Geico Honda, but that doesn't start in 2018–so he was loaned to the 114 tteam run by former two-time WMX Champion Livia Lancelot. He will ride the 250 GPs in 2018 and then move to America in 2019.
DAVI MILLSAPS NEWS

Davi Millsaps was the surprise signing by the factory Yamaha team to replace ChadReed, who left Yamaha, as he has almost every team he rode for, on bad terms. Saldy, Davi broke his elbow and was reportedly knocked out in a crash at the test track. He will not be at the Monster Cup. With Cooper Webb also out of action with a thumb njury, the Yamaha team can be found at the gaming tables come Saturday night.
TEAM HONDA NEWS

With Ken Roczen unable to go race speed yet, in fact he hasn't even tried to ride on a Supercross track at all, Honda's hopes switch to Cole Seely. But that went out the tube when Cole elected to have his injured hand worked on, so that he be ready for January. That meant that Team Honda was going to be standing next to Team Yamaha at the roulette wheel in the MGM Grand on Monster Cup weekend. But, Honda bailed themselves out by drafting Geico Honda's Christian Craig to be their fill-in rider…again.
MISSING IN ACTION FROM MONSTER CUP
Obviously Ryan Dungey won't be there, since he retired back in May. Neither will Ken Roczen (injured), Blake Bagget (injured), Davi Millsaps (injured), Cooper Webb (injured), Cole Seely (injured), Weston Peick (waiting), Mike Alessi (waiting), Justin Brayton (in Australia), Chad Reed (not ready), James Stewart (golfing) and Malcolm Stewart (fishing). Out of last year's Monster Cup top ten (Eli Tomac, Ryan Dungey, Marvin Musquin, Chad Reed, Cole Seely, Mike Alessi, Blake Baggett, Benny Bloss, Jordon Smith and Shane McElrath), the only riders who will be in Vegas this Saturday are Eli Tomac, Marvin Musquin, Benny Bloss and Jordon Smith.
TIM GAJSER WILL BE THERE
2016 FIM 450 World Champion will get his wish to race in a Supercross—although the Monster Cup race is a whoopless Supercross. When Gajser won the 250 World Championship he said that his Honda contract let him come to America if he wanted. He wanted to, but got talked into doing another season in Europe (which worked out fine for him), but now he's going to do another season in Europe. So, the Monster Cup might be his only chance to ever race in a real American Stadium.
EVERY MONSTER CUP WINNER THROUGH HISTORY…OOPS THROUGH 6 YEARS
MONSTER CUP WINNERS 2011…Ryan Villopoto 2012…Justin Barcia 2013…James Stewart 2014…Davi Millsaps 2015…Ken Roczen
2016…Eli Tomac
MXA TWO-STROKE FILES: A V6 YZ250 TWO-STROKE—MAKE THAT A YZ1200

Two-stroke tuner Stan Stephens hand-built a 1200cc V6 two-stroke engine. It uses Yamaha Banshee cylinders mounted on a modified V6 crankcase based on an four-cylinder RZ500 V4 engine.
THIS WEEK'S BIRTHDAY BOYS: P.J. LARSON'S BIRTHDAY IS MONDAY

Oct. 12…Dan Alamangos Oct. 13…Greg Albertyn 1972 Oct. 13…Mike Shield Oct. 14…Todd Lentz
Oct. 14…Ron Joynt

Oct. 15…Jimmy Decotis 1991 Oct. 15…Matt Walker 1981
Oct. 16…P.J. Larsen 1990

Oct. 17…Evel Knievel 1938 Oct. 18…David Vuillemin 1977 Oct. 18…Marcus Hansson 1969 Oct. 18…Matt Boni 1987 Oct. 19…Jimmy Ellis 1955
Oct. 19…Vince Friese 1990
HALL OF FAME MOTORCYCLE AD: IT DOESN'T LOOK LIKE MUCH, BUT IT WORKED

Considered to be one of the most effective motorcycle ads every produced this 1963 Honda ad put the Japanese motorcycle manufaqcturer on the map by making motorcycleZ look like fun. The $245 price didn't hurt either.
SATURDAY'S MONSTER ENERGY CUP TRACK
BIKES YOU'VE NEVER SEEN BEFORE: AND DON'T WANT TO AGAIN?

The electric-powered Yamaha Deinonychusa never went into production, but we would have loved to have seen the brochure explaining how it worked.

MXA PRODUCT SPOTLIGHT: ACERBIS UPPER FORK GUARDS
MOTO BEACH CLASSIC: FLAT TRACK, SURFING AND DRAGS AT BOLSA CHICA BEACH ON OCT. 14

For more info go www.motobeachclassic.com.
2017 WORLD VET MOTOCROSS CHAMPIONSHIP ON NOVEMBER 4-5


The Dubya USA-sponsored World Vet Championship will be held on November 4-5, 2017, at Glen Helen Raceway Park in SoCal. Pre-registration is already open. Click here to sign-up or see the available classes and age groups.
TAKE TO THE STREETS! 2017 ELSINORE GRAND PRIX ON NOV. 10-12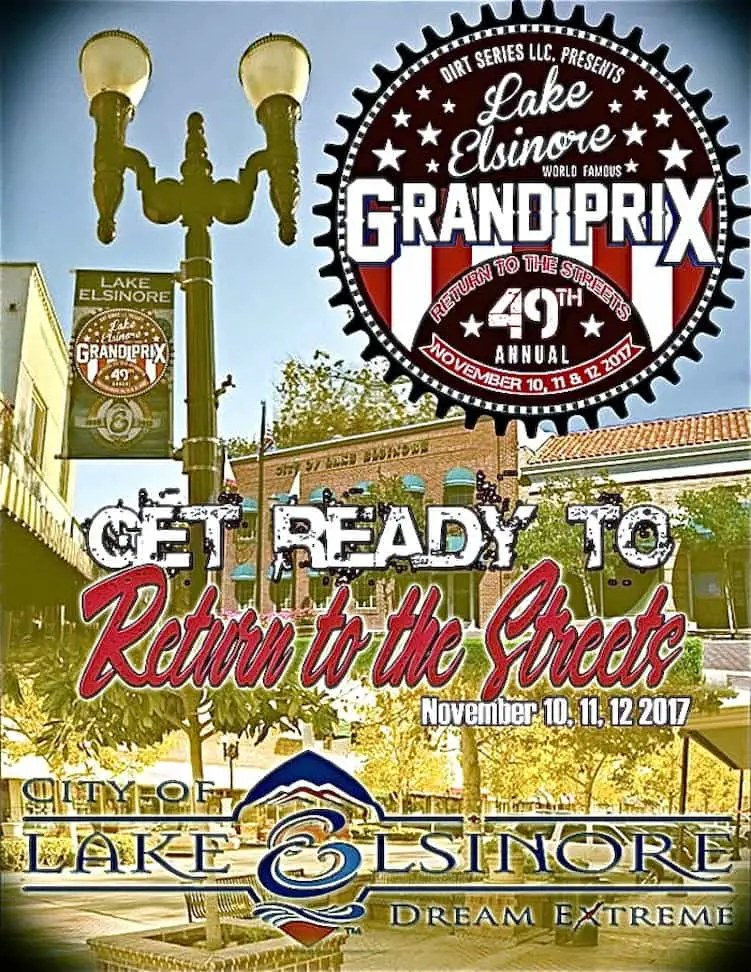 It will be held on Nov. 10-11-12. For more info go to www.elsinoregrandprix.com
THE PARIS SUPERCROSS ON NOVEMBER 18-19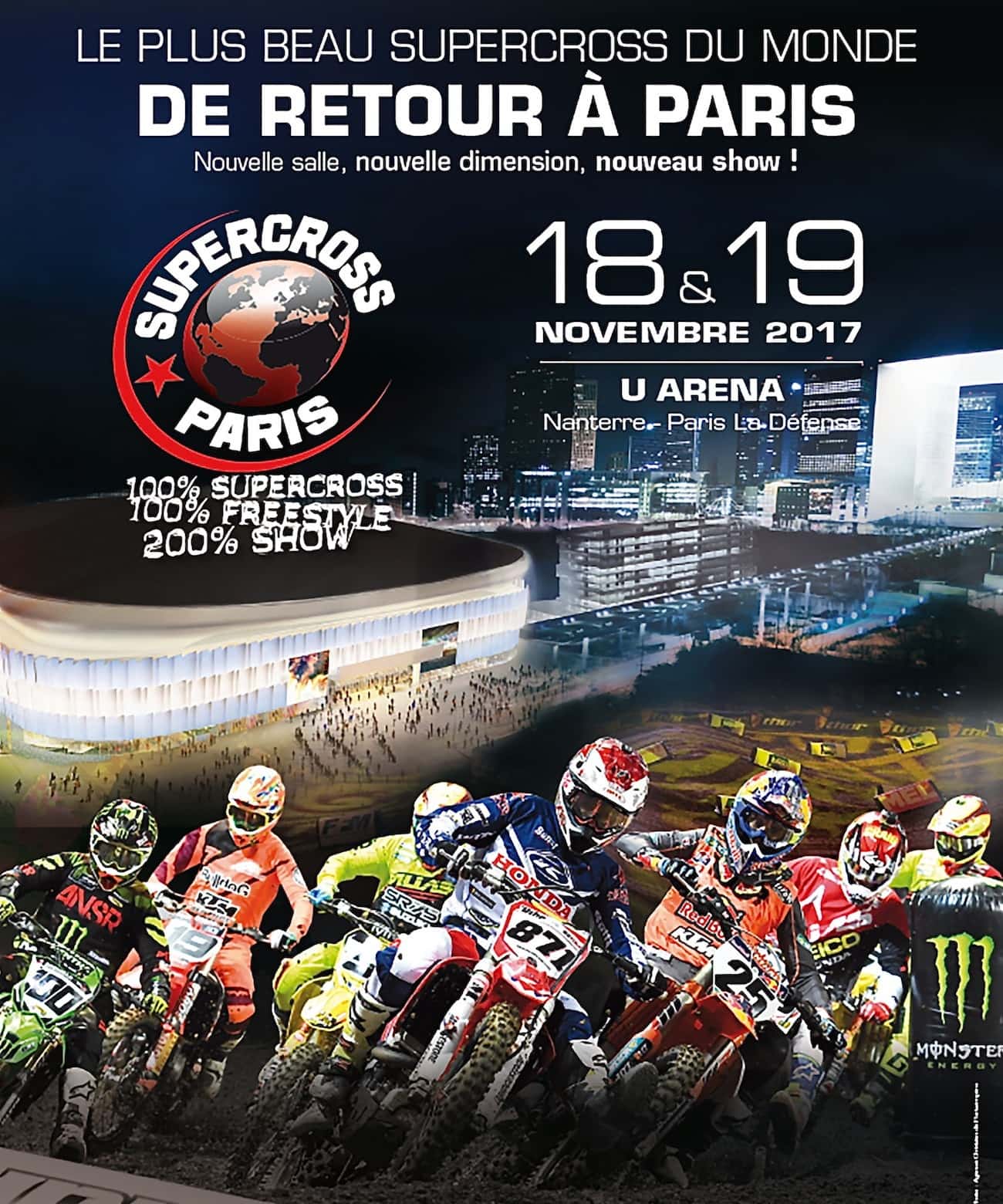 The 2017 Paris Supercross will move to the brand new U-Arena in the Paris business district. The U-Arena seats 24,000 spectators and has a larger floor area than Lille or Bercy. The 2017 Paris Supercross will be held on November 18-19, 2017.
2017 THOR MINI OLYMPICS TO BE BACK AT GATORBACK ON NOV. 20-25
For more information go to www.unlimitedsportsmx.com
SUBSCRIBE TO TWO MAGAZINES AT ONCE & GET $50 IN ROCKY MTN. GIFT CARDS
Do you subscribe to MXA? You should. We know that you think that print magazines are dead and that the internet will fill the void, but most of the stuff in the current issue of MXA won't appear on the web for several months, if at all. Luckily, you can get all of MXA on your iPhone, iPad, Kindle or Android by going to the Apple Store, Amazon or Google Play or in a digital version. Even better you can subscribe to Motocross Action and Dirt Bike at the same time and get $50 in Rocky Mountain ATV/MC gifts cars to spend on whatever motorcycle parts or products you need. You can call (800) 767-0345 or go to www.hi-torque.com/mxcombo.
WHAT'S LEFT TO SEE IN 2017

The attention will now turn to Straight Rhythm, Monster Cup, the Australian Supercross Championship and the World Vet Championship.

2017 AUSTRALIAN SUPERCROSS CHAMPIONSHIP Oct. 17……………………Virginia Nov. 11-12………………Qudos Bank Arena
Nov. 18………………….Jimboomba
2017 MONSTER ENERGY CUP
Oct. 14…………………….Las Vegas, NV
RED BULL STRAIGHT RHYTHM IV
Oct. 21………………….….Pomona, CA
2017 DUBYA WORLD VET MOTOCROSS CHAMPIONSHIP
Nov. 4-5………………..….Glen Helen, CA
2017 THOR MINI OLYMPICS
Nov. 20-25……………….Gainesville, FL
2017 ADAC GERMAN MASTERS CHAMPIONSHIP
Sept. 24…………………..Holzgerlingen
2018 MOTOCROSS RACE SCHEDULES
The 2018 Supercross schedule starts on Januray 6, 2018 at Anaheim Stadium, before going to Houston on January 13.

2018 AMA SUPERCROSS CHAMPIONSHIP Jan. 6……………………..…Anaheim, CA Jan. 13………………………Houston, TX Jan. 20………………………Anaheim, CA Jan. 27………………………Glendale, AZ Feb. 3……………………..…Oakland, CA Feb. 10………………………San Diego, CA Feb. 17………………………Arlington, TX Feb. 24………………………Tampa, FL Mar. 3……………………..…Atlanta, GA Mar. 10………………………Daytona, FL Mar. 17………………………St. Louis, MO Mar. 24………………………Indianapolis, IN Apr. 7……………………..…Seattle, WA Apr. 14………………………Minneapolis, MN Apr. 21………………………Foxborough, MA Apr. 28………………………Salt Lake City, UT
May 5…………………….…Las Vegas, NV
2018 FIM MOTOCROSS WORLD CHAMPIONSHIP Mar. 4……………………….Argentina Mar. 25……………………..Spain Apr. 8………………………..Italy 1 Apr. 15………………………Holland 1 Apr. 29………………………Russia May 13………………………Latvia May 20………………………Germany June 3……………………….England June 10……………………..France June 24……………………..Italy 2 July 8………………………..Indonesia July 22………………………Czech Republic Aug. 5……………………….Belgium Aug. 12……………………..Switzerland Aug. 19……………………..Sweden Sept. 2………………………USA Sept. 9………………………Mexico Sept. 23…………………….Holland 2
Sept. 30…………………….Italy 3
2018 MOTOCROSS DES NATIONS
Oct. 7………………………Red Bud, MI
2018 AMSOIL ARENACROSS CHAMPIONSHIP Jan. 6-7………………………….Dayton, OH Jan. 13-14………………………Worcester, MA Jan. 20-21……………………….Wilkes Barre, PA Jan. 27-28………………………Greensboro, NC Feb. 10-11………………………Madison, WI Feb. 17-18………………………Florence, SC Mar. 17-18………………………Denver, CO Mar. 24-25………………………Nampa, ID Apr. 7-8………………………….Wichita, KS Apr. 21-22………………………Portland, OR Apr. 28-29………………………Reno, NV
May 4-6…………………………Las Vegas, NV
2018 BRITISH ARENACROSS CHAMPIONSHIP Jan. 6…………………………..Manchester Jan. 13………………………….Newcastle Jan. 20…………………………Birmingham Jan. 26-27…………………….Belfast Feb. 10………………………….Sheffield
Feb. 17………………………….London
2018 WORLD OFFROAD CHAMPIONSHIP (WORCS) Feb. 2-4…………………..……Las Vegas, NV Feb. 23-25……………….…..Phoenix, AZ Mar. 23-24……………….…..Lake Havasu, AZ Apr. 20-22……………….…..Hurricane, UT May 25-27……………………Cedar City, UT Sept. 14-16……………………Glen Helen, CA Oct. 19-21………………….…Adelanto, CA
Nov. 9-11……………………..Primm, NV
SEE THE 2018 KTM 450SXF IN ACTION
SEE THE 2018 YAMAHA YZ250F IN ACTION
SEE THE 2018 HUSQVARNA TE250i IN ACTION
SEE THE 2018 SUZUKI RM-Z450 IN ACTION
SEE THE 2018 HUSQVARNA FC450 IN ACTION
SEE THE 2018 YAMAHA YZ450F IN ACTION
SEE THE 2018 KAWASAKI KX250F IN ACTION
SEE THE 2018 KTM 350SXF IN ACTION
SEE THE 2018 HONDA CRF450 IN ACTION
SEE THE 2018 SUZUKI RM-Z250 IN ACTION
SEE THE 2018 KAWASAKI KX450 IN ACTION
Photos: Monster Energy, Adam Duckworth, Brian Converse, Dan Alamangos, Debbi Tamietti, Justyn Norek, Jody Weisel, Scott Mallonee, Massimo Zanzani, Honda, KTM, Husqvarna, Daryl Ecklund, MXA