www.pinkbike.com
Cube Stereo 140 C:68 SLT 29 - Review
The Stereo has been a part of Cube's range for many years, but it's continually evolving. A flick through the German bike brand's catalogue is to be blinded by choice. Within the Stereo range alone there are multiple travel options (from 120 to 160mm), different wheel sizes and frame materials to choose from. Right in the middle of this mix is a 29" Stereo packing 140mm of travel. The C:68 SLT 29, tested here, is the range-topping model with the best equipment and highest price tag.
We were keen to test this bike because it is, save for a few key components such as the fork and shock, the same bike Greg Callaghan raced at the Ireland round of the Enduro World Series last year, a race which he won. Pinkbike ran a story about the hometown hero switching from his usual 27.5" wheeled Cube Stereo for the big-wheeled version.
Cube Stereo 140 C:68 SLT 29
• Intended use: xc / trail / all-mountain• Rear wheel travel: 140mm• Fork travel: 140mm• Wheel size: 29''• 68º head angle• Carbon frame with bottle cage mount• Boost spacing front and rear• Sizes: S, M, L, XL• Weight: 25.57lb (size L)• MSRP: £5,199
• Contact: Cube Bikes
Frame Details
The Stereo 140 C:68 SLT 29 utilises Cube's most advanced, twin-mold carbon construction with C:68, a spread-tow carbon (used by some other companies already, including Felt). What sets this type of carbon construction apart is that it uses an untwisted bundle of continuous filaments, which are spread out flat and interlaced within the layup. Cube says the benefits of this development is higher carbon fibre content and less of the resin that holds it all together."C68 represents a highly innovative carbon technology with less resin and a fibre content of 68%. Previously the fibre content was usually about 60%. Through spreading fibres clearly, thinner layers can be attained than layers otherwise conventionally could be, a so-named spread tow technology," says Cube. It certainly creates a very distinctive appearance on the frame and is definitely a talking point in the carpark before a ride.The carbon front triangle is combined with an aluminium swingarm and forged rocker linkage. Boost is rapidly becoming standard on new bikes and the Stereo utilises the wider 148mm rear axle. But it's not Plus compatible so don't go trying to squeeze some fatter tyres on, there ain't space. There's a press-fit bottom bracket, a nod to the level of stiffness Cube is trying to achieve with the frame, though it won't get the nod from budding home mechanics.It's possible to fit a front mech still and, indeed, Cube specs the frame with 2x drivetrains elsewhere in the range, but this 1x drivetrain leaves the mount redundant. There's full internal cable routing, including provisions for an internally-routed dropper post. Cube also outfitted the frame with a useful down tube protector to ward of rock strikes and space in the main frame for a water bottle.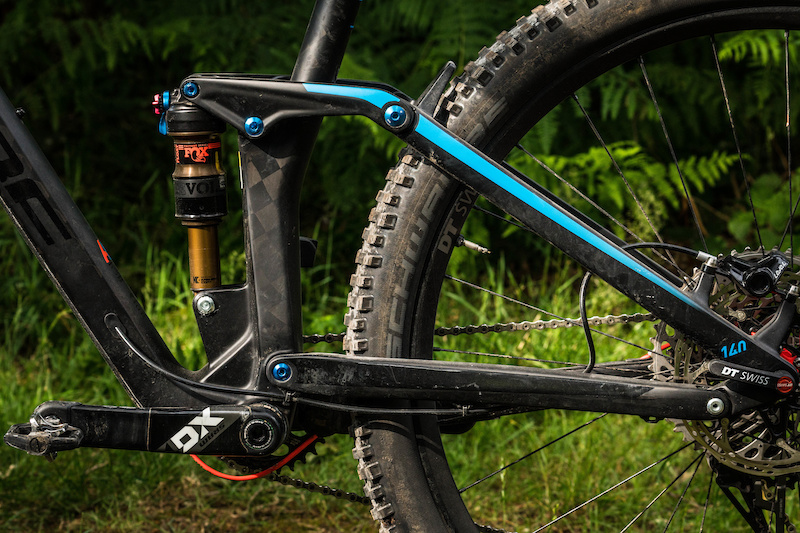 Frame Details
All of Cube's bikes use a similar four-bar suspension configuration, with a chainstay pivot to isolate braking forces and keep the suspension working smoothly at all times.This model gets a top-end Fox Float DPS EVOL Factory shock delivering 140mm travel with three-way compression adjustment. The rear shock is mounted to a small shelf moulded at the bottom of the seat tube. A long and flat forged rocker linkage activates the shock. To boost swingarm stiffness the seat stays are braced, but they run very close to the tyre and can clog with mud. Up front is a Fox 34 Float Factory FIT4 Boost fork that delivers 140mm of travel.
Geometry
Geometry is rapidly changing and it can be difficult at times to keep abreast of the constantly moving goalposts. Take your eye of the industry for a moment and they've made another massive leap forward. Cube has updated its Stereo bikes over the years, but the numbers suggest a more conservative approach than many other companies. It's certainly not on the bleeding edge of the long and low movement, a la Whyte or Mondraker.The Stereo 29" is available in four sizes (16 to 22"). Chainstay length says constant (446.5mm) across the range, rather than changing in length according to frame size, as is the case with some models like the Norco Sight. A 68-degree head angle, 1182mm wheelbase and 436mm reach on the size Large bike aren't the most modern numbers and puts the Cube behind the Trek Fuel EX and Santa Cruz Hightower in the length department.
Specifications
Specifications
Price
$6825
Travel
140mm
Rear Shock
Fox Float DPS Factory, 190x51mm
Fork
ox 34 Float Factory FIT4,140mm
Cassette
Sram XG-1295, 10-50T
Crankarms
SRAM XO1 Eagle, 30T, Boost, 175mm
Rear Derailleur
SRAM XO1 Eagle, 12-Speed
Chain
SRAM PC-XO1 Eagle
Shifter Pods
SRAM XO1 Eagle Trigger
Handlebar
Syntace Vector Carbon High20, 780mm
Stem
Syntace Megaforce 2
Brakes
SRAM Level Ultimate
Wheelset
DT CSW AM 3.9
Tires
Schwalbe Nobby Nic Kevlar 2.35, TrailStar
Seat
Fi`zi:k Gobi Carbon Braided
Seatpost
Rock Shox Reverb Stealth, 150mm
Climbing
There's no denying it, the top-tier Cube Stereo is a rapid climber - it's the fastest and easiest climbing bike I've yet tested for Pinkbike. The low weight is the obvious reason behind its insatiable appetite for scaling climbs. In or out of the saddle it surges forward with little hesitation. It's quite addictive; you'll be smashing up climbs like you're Nino Schurter, elbows out lungs bursting sweat inducing. The seated position with the steep seat angle puts you in a really good position for cranking out the power on very long climbs, and the saddle is a comfortable perch for extended periods of pedaling. Cube's four-bar suspension provides a smooth, linear feel with the top-end Fox Float DPS shock providing exceptionally good small bump sensitivity. The rear suspension smothers everything at lower speeds. Turn the wick up and the same suspension tends to blow through the travel. It's possible to bottom it out on bigger drops a tad too easily. I ramped up the air pressure to achieve better support and found it provided a predictable balance. The suspension comes into its own on climbs and traversing trails. It minimises unwanted bob, so you don't have to resort to the firm setting, yet it's sensitive enough to ensure that the tyre tracks the ground well and delivers great traction on steep, rooty climbs.The full carbon frame provides a high level of stiffness. It feels very taut when you're out of the saddle and levering the wide bars, gifting the Stereo a very alert and responsive character. On short, sharp climbs, the bike snaps forward with startling acceleration. The Eagle drivetrain - apart from the chain snapping twice during testing - provided all the gears I ever needed on the trail I tested the Cube on. I never encountered a situation where I was under or over-geared. Because of the low weight of the bike the 50t sprocket didn't get as much use as it might on heavier longer travel bike - the Stereo isn't for winching up climbings, but rather for scorching them in search of KOMs.
Descending
You'll reach the top of the climbs ahead of your mates on this bike, so you'll have plenty of time to catch your breath before the fun part of the ride, the descents. On the other hand, you might want to use that time to get a head start because as fast as the Stereo is, your friends will probably catch you if they're on a bike with more modern geometry. The big wheels and the smooth, consistent 140mm travel do help the Stereo build up a good pace on the descents. Similarly, the Stereo's stiff frame and low weight enable rapid acceleration out of corners and easy line changes to get around obstacles - you can place the bike where you need it on the trail with absolute precision. The bike's 780mm wide handlebar and 150mm dropper post add confidence and help you hold your line when it gets sketchy. All good things on a descent, to be sure.
When the going gets rowdy, however, the Stereo's conservative geometry causes it to get out of its depth. The Cube Stereo is a steeper, higher and shorter bike than more on-trend 29" bikes and that results in an often nervous disposition on very steep descents that possess lots of technical challenges. The bike feels compact and too high, the head angle too steep and the reach and wheelbase too short to really let you crush the downhills with authority. It's simply not as stable, composed, capable or fun in the rough compared to rival 29" bikes, like YT's Jeffsy or the Trek Fuel EX. The Stereo definitely leans towards marathon and cross-country speed and efficiency, rather than riotous descending lunacy.
After reading the preceding paragraph, you might think, "Why not go up a size?". The XL model, however, only gains 4mm of reach over the Large version while massively reducing the stand over clearance. I tried the XL bike, but the saddle was too high with the supplied dropper post! The head tube is also too long, which is compounded by the tall conical spacer atop the headset. The end result are handlebars that simply felt too high, making it trickier at times to get your weight over the front wheel. It all combines to create a bike that feels finicky on very technical descents.The Stereo is not a playful bike that encourages you to bomb down the trail, brakes off and feet off the pedals, careening through the corners like you're Ratboy on a charge. The Cube Stereo is very focused, sharp and precise - like a sushi chef - and makes decent progress, but you really need to grab it by the scruff of its neck and manhandle it with plenty of weight distribution changes to get the best of it. Then again, any time lost on the descent to your riding pals you'll easily make back up on the climbs, and for some people, that's the bike they want. I imagine, though, that a lot of Pinkbike readers would feel the ratio is flipped the wrong way.
Component Check
Where Cube Bikes have been very successful is in offering very competitively-priced bikes; this one is no exception. The Stereo is certainly not cheap, but you're getting some very tasty kit and it compares well with some of the direct sales brands, yet comes with the support and convenience of a local dealer network.
• SRAM XO1 Eagle: SRAM's 12-speed drivetrain is a thing of wonder, with slick gear shifts across the huge cassette and all the range you could ever really need, I certainly never came up short on any climbs. There are some big jumps towards the top of the cassette, which does take some getting used to, but it's no biggie to adapt your riding. That said, once I finished testing this bike and went back to an 11-speed SRAM drivetrain, I found the closer ratios of the 10-42t suited my local trails better. I also managed to snap the Eagle 12-speed chain twice which was annoying.
• Schwalbe Nobby Nic: The German tyre company's cross-country tyres are regularly lambasted on internet forums, but these latest versions provided good performance. Perhaps Nic's best trait is providing consistent performance in a wide range of conditions, from dusty to muddy trails, without ever really getting out of its depth. I want a bit more front end grip and would be tempted to fit a Magic Mary up front to give the front end a bit more bite in the corners.
• Fizik Gobi Carbon Braided saddle: I'm a fussy bugger when it comes to saddles, but I got on really well with this one from the Italian company. It's well padded and the shaped proved to be a good fit for me. I completed many long rides remarking on how comfortable I was at the end. A saddle is not something you might give much thought to when riding a new bike, but it can make or break that first-ride enjoyment.
Pinkbike's Take
Visit the high-res gallery for more images from this review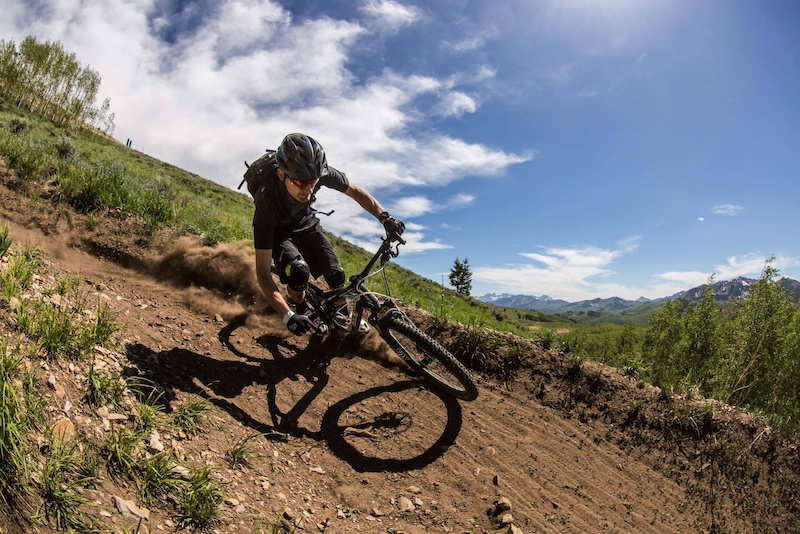 About the Reviewer
David Arthur is a freelance mountain biker writer based in the UK.
Stats:
Age: 36 • Height: 5'11" • Weight: 155lb • Industry affiliations / sponsors: None