www.pinkbike.com
BikeYoke Revive 185 - Need a Little More Drop?
Jul 31, 2017 at 0:00
Jul 31, 2017
After launching the 125mm and 160mm on-the-fly bleed-able dropper posts at the beginning of 2017, BikeYoke´s award winning Revive is now available with a whopping 185mm drop!After more than half a year of field and lab testing, the Revive can now be ordered in its longest version. Due to an extremely low stack height of 41mm and the short overall length, the 185mm version should be able to find its way into a lot of taller riders frames—those who desire more travel than what most competitors can offer.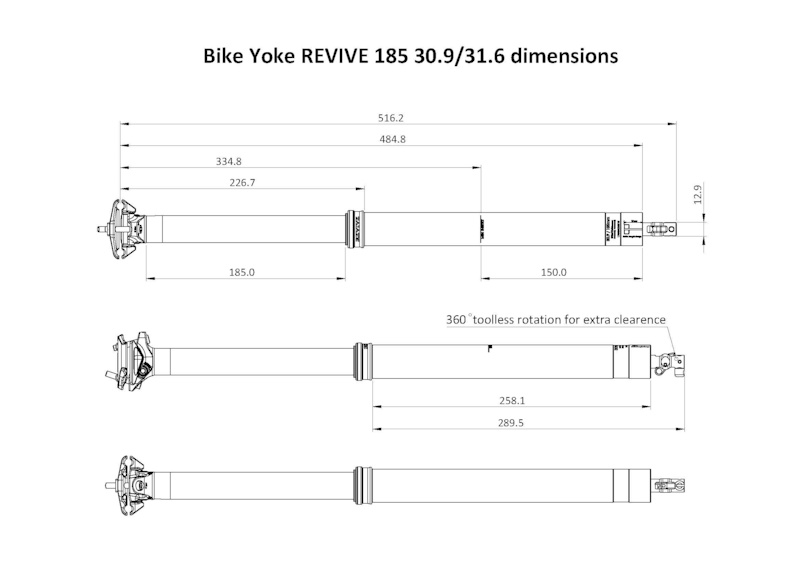 Deliveries to customers for the 185mm version will start by the middle of August.Besides the new travel option, all Revive posts have received some other interesting updates:
Microvalve
All Revives now come with a patented new feature called "Microvalve". Microvalve is a small membrane that sits inside the outer oil/air chamber and is there to minimize the chance of air getting inside the inner chamber, where it would cause a springy post. Unlike an IFP, the Microvalve membrane is installed statically and just offers enough resistance to not let air pass it when the post is static; i.e. when you put the post upside down or lay it down for a while. However, when you drop or raise the post, the pressure will easily bend the membrane, so that oil can pass and won´t affect Revive super smooth action. This membrane will effectively reduce the frequency between required resets while keeping the reset procedure and actuation of the post itself as smooth and easy as before.
Integrated Mini Reset Lever
Currently, the Revive's unique reset feature (see video below) was activated by the turn of a 4mm Allen key. Since a lot of customers asked for an integrated reset-lever (in order to not have to grab the allen key anymore), BikeYoke now offers the Revive with an integrated mini lever, which can be attached to the post in place of the Allen Key. The mini-lever is secured by an o-ring and customers can choose to keep it on the post or take it off for a cleaner look. The mini lever is retrofittable and owners of current Revive posts can get it directly from [L=https://www.bikeyoke.de]BikeYoke´s online store[/L]. Since the design of the reset mechanism did not change, the reset feature of the new Revive can still be activated by a 4mm allen key. The mini lever will be included in all posts after Eurobike, when ordered from www.bikeyoke.com directly.
Video in case you haven't seen the unique feature of the Revive, here is a video showing the reset feature.
Here is how the post works.BikeYoke is known for rider oriented products and solutions and after releasing their own "Triggy" remote last year, we noticed a lot more upgrade remotes showing up. Enthusiasts want to customize their bikes, and BikeYoke decided to offer the Revive as a "post-only" option. Of course, brands like to see their posts being used with their own remote but, "we eventually want to leave the choice with the customer. If they´re happy with their remote, we´re happy to supply the post only." Pricing, details, and availability for the new Revive: • Pricing includes 19% VAT. Customers from outside the EU will be not be charged the VAT • All posts shipped directly from www.bikeyoke.com before Eurobike will ship without the integrated mini-reset-lever. After Eurobike, the levers will be included without upcharge. • As usual, shipping is free worldwide when ordering from www.bikeyoke.com Revive 125 including remote: 359€ (available now)Revive 160 including remote: 379€ (available now)Revive 185 including remote: 419€ (deliveries will start by mid-August)Revive 125 (post only): 319€ (available now)Revive 160 (post only): 339€ (available now)Revive 185 (post only): 379€ (deliveries will start by mid-August)OE, distributor and dealer inquiries are welcome. Contact BikeYoke at
[email protected]
MENTIONS
:
@Sacki
Must Read This Week