Welcome to Racerhead, and a happy belated Thanksgiving to everyone. It's been a slow week on the professional side of things. The Paris Supercross took place last weekend and Red Bull KTM's Marvin Musquin added yet another trophy to his off-season haul. He became the first rider to sweep the Monster Energy Cup, Red Bull Straight Rhythm, and now the Paris SX. Steve Matthes was in France for the event and you can read his observations here.
There is some amateur racing going on in both Florida and California. The Thor Winter Olympics (or Mini Os) are being held at Gatorback Cycle Park this week in Gainesville, Florida, and A Day in the Dirt is taking place out at Glen Helen Raceway in San Bernardino, California. You can follow the live timing and scoring from the Mini Os here.
But, for most of us, Thanksgiving is time for reflection, family, and of course lots of turkey, followed by today's Black Friday shopping madness. Last night at my family's get-together, in-between card games and karaoke, the conversations ranged from days-gone-by to Christmas gift ideas to showing my cousin how Instagram works. We also got to talking about motocross of course, and the year that was, as well as what 2018 might look like. The big stories were the crazy supercross battles that went down to the wire in Las Vegas, the emergence of Zach Osborne as champion, Team USA's struggles at the Motocross of Nations, what may (or may not) happen with James Stewart and Chad Reed, and pretty much every race this past summer.
Then my nephew Cade asked me something that really got us all thinking about the past six months: Where did his favorite rider Ryan Dungey disappear to? In the history of our sport, has a rider ever made such a clean and complete retirement from professional racing as Ryan Dungey did in May? Think about it. He won his fourth AMA Supercross Championship in a nail-biter with Eli Tomac, and then called a press conference a week later to say he was shutting it all down. Few saw it coming, and he did it with no second thoughts, no retirement tour, no inkling to go race in Europe, no talk about coming out of retirement… he just did his job, won another championship, and quite literally rode off into the sunset.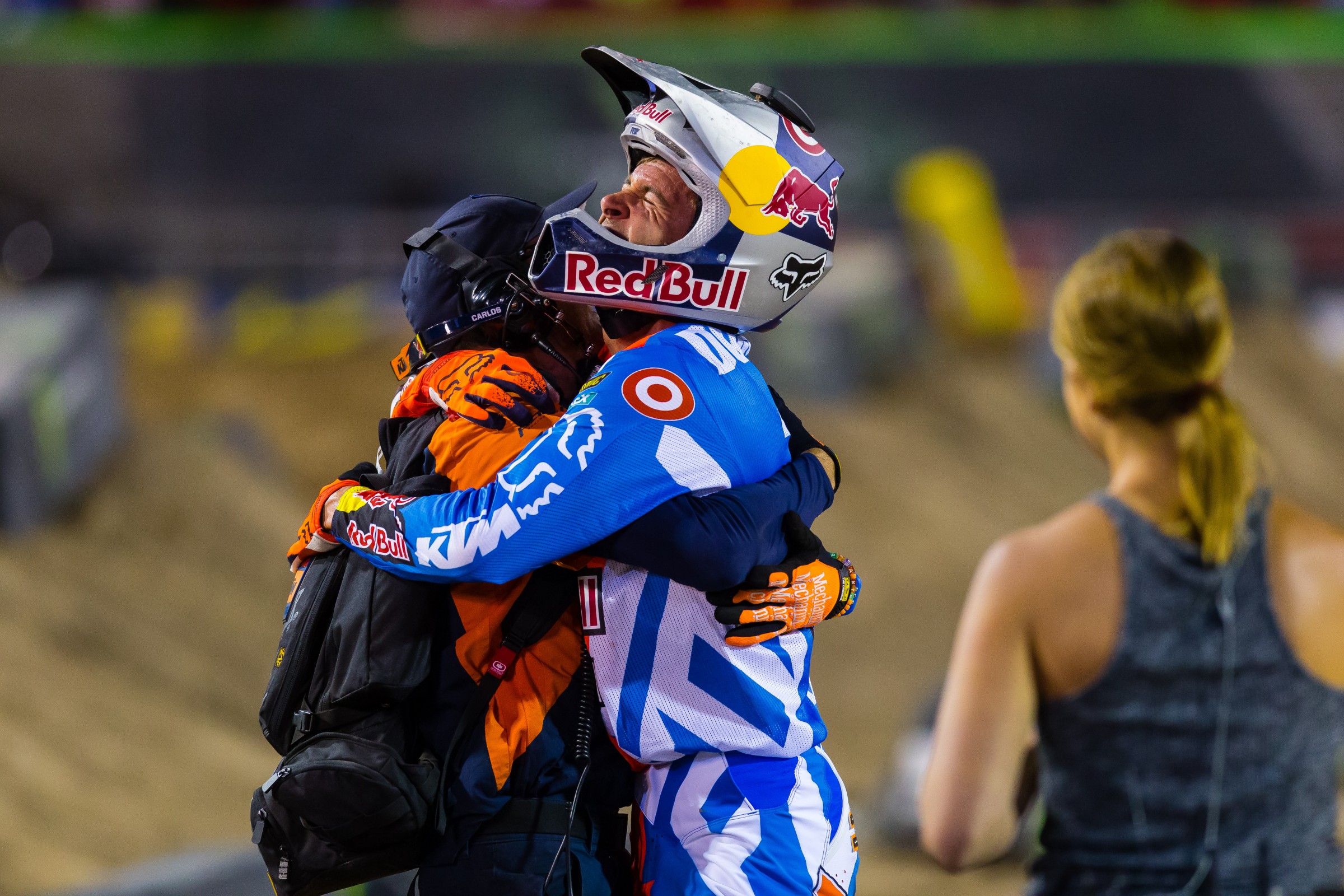 Now we will go into 2018 for the first time since 2015 where the reigning champion of AMA Supercross wasn't out there, as Ryan Villopoto stepped away from supercross and motocross here in the U.S. after his 2014 championship and tried a year of racing in Europe. As a result, we will almost certainly have a first-time Monster Energy AMA Supercross Champion for the first time since 2011, when Ryan Villopoto knocked off Dungey for the first of his own four AMA Supercross titles.
Of course Dungey popped up here and there this summer, hanging with his old Red Bull KTM team, driving the mule or helping out in the rig, but he mostly seemed to just quietly enjoy the transition into retirement. Maybe we will see more of Ryan in 2018 as he gets behind Musquin's bid to keep the #1 plate with a KTM, but I told my nephew sorry, his favorite rider probably was never going to race again, unless he maybe gets bored a few years from now and shows up in the +25 Class at Loretta Lynn's. Eleven-year-old Cade just shrugged and said, "That's okay, my favorite rider is Malcolm Stewart now. What's he been doing?"
Happy Thanksgiving, everyone.
Last Monday the Georgia Dome in Atlanta said goodbye forever, demolition workers imploding the former home of the Atlanta Falcons, the 1996 Olympic Games, and 26 different AMA Supercross events. It was opened in 1992, and between '93 and 2017 this venue was a mainstay on the supercross schedule, hosting a race every year for 25 seasons, and a total of 26 races (in 2015 the George Dome hosted two rounds).
All told, there were 11 different riders and five brands to win the premier class at the Georgia Dome. Damon Bradshaw, Jeremy McGrath, Mike LaRocco, Damon Huffman, Ricky Carmichael, Chad Reed, James Stewart, Davi Millsaps, Ryan Dungey, Ryan Villopoto, and Ken Roczen were the riders; Honda, Yamaha, Suzuki, Kawasaki, and KTM were the brands. The most successful riders were McGrath, Dungey, and Carmichael, who were each able to get five wins each at the Georgia Dome. The most successful brand was Kawasaki with seven victories.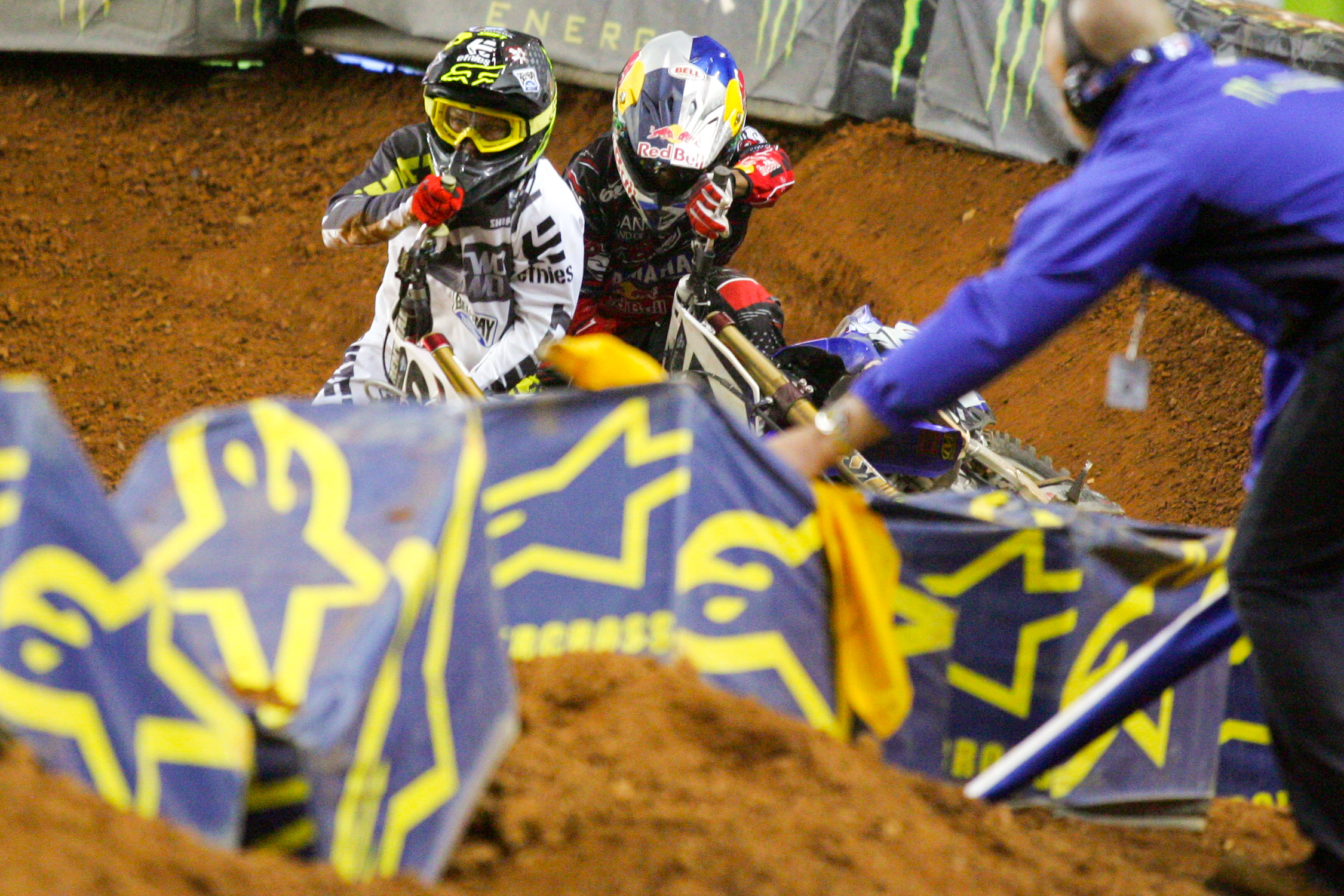 Damon Huffman got his one and only AMA Supercross win in the Georgia Dome in 1997 in the saddle of Kawasaki. Davi Millsaps got his first premier class AMA Supercross win there in 2008 with Honda.
The 125/250 class had many more winners. Between 1993 and 2017 there were 23 different winners: Doug Henry, Ezra Lusk, Mickael Pichon, John Dowd, Ricky Carmichael, Ernesto Fonseca, Stephane Roncada, Nathan Ramsey, Chad Reed, Brock Sellards, James Stewart, Grant Langston, Josh Grant, Ryan Dungey, Trey Canard, Christophe Pourcel, Dean Wilson, Justin Barcia, Wil Hahn, Martin Davalos, Jeremy Martin, Marvin Musquin, and Zach Osborne. And all six brands in AMA right now (KTM, Husqvarna, Honda, Yamaha, Suzuki, Kawasaki) had wins in the Georgia Dome. Only Carmichael, Pourcel, and Davalos were able to take two wins each. The most successful brand, like in the premier class, was Kawasaki with nine wins.
Carmichael got his very first professional win in the Georgia Dome in 1997 aboard a Splitfire/Pro Circuit Kawasaki KX125. Josh Grant got his first ever professional win in the Georgia Dome in 2006 taking the 125 East SX race. Ryan Dungey got his maiden professional win in the Georgia Dome in 2007, finishing first in his first-ever AMA Supercross in when it was called the Lites class while racing for Makita Suzuki. The next year Canard did likewise and earned his professional win in the Georgia Dome in his first 250 supercross race. Others to win for the first time here were Henry, Dowd, Wilson, Hahn, Davalos, and Osborne
Finally, there were just four riders to win in two classes in the Georgia Dome: Carmichael, Reed, Stewart, and Dungey.
Racer X Amateur Film Festival (Chase Stallo)
The fourth and final round of the 2017 Racer X Amateur Film Festival presented by MotoSport, WASpcam, and Yamalube, semifinals has been finalized. Australia's Katie Homewood defeated Hungary's Adam Vidovics to advance to the finals.
Voting Percentage
Katie Homewood - 55.5%
Adam Vidovics - 44.5%
The first four weeks of the Racer X Amateur Film Festival, presented by MotoSport and WASPcam, and Yamalube hosted what was arguably the most competitive field to date—but the competition isn't over yet. The finals are here, which means that the dozens of entries from amateur videographers across the world have been whittled down to four finalists:
Finalists
Griffin Denbesten
Damon Smith
Bryan Allie
Katie Homewood
This year's champion and runners-up will be determined through one more week of voting by you. So watch them one more time, then vote for your favorite one. And remember, you can vote up to once per day through Nov. 30. Vote now!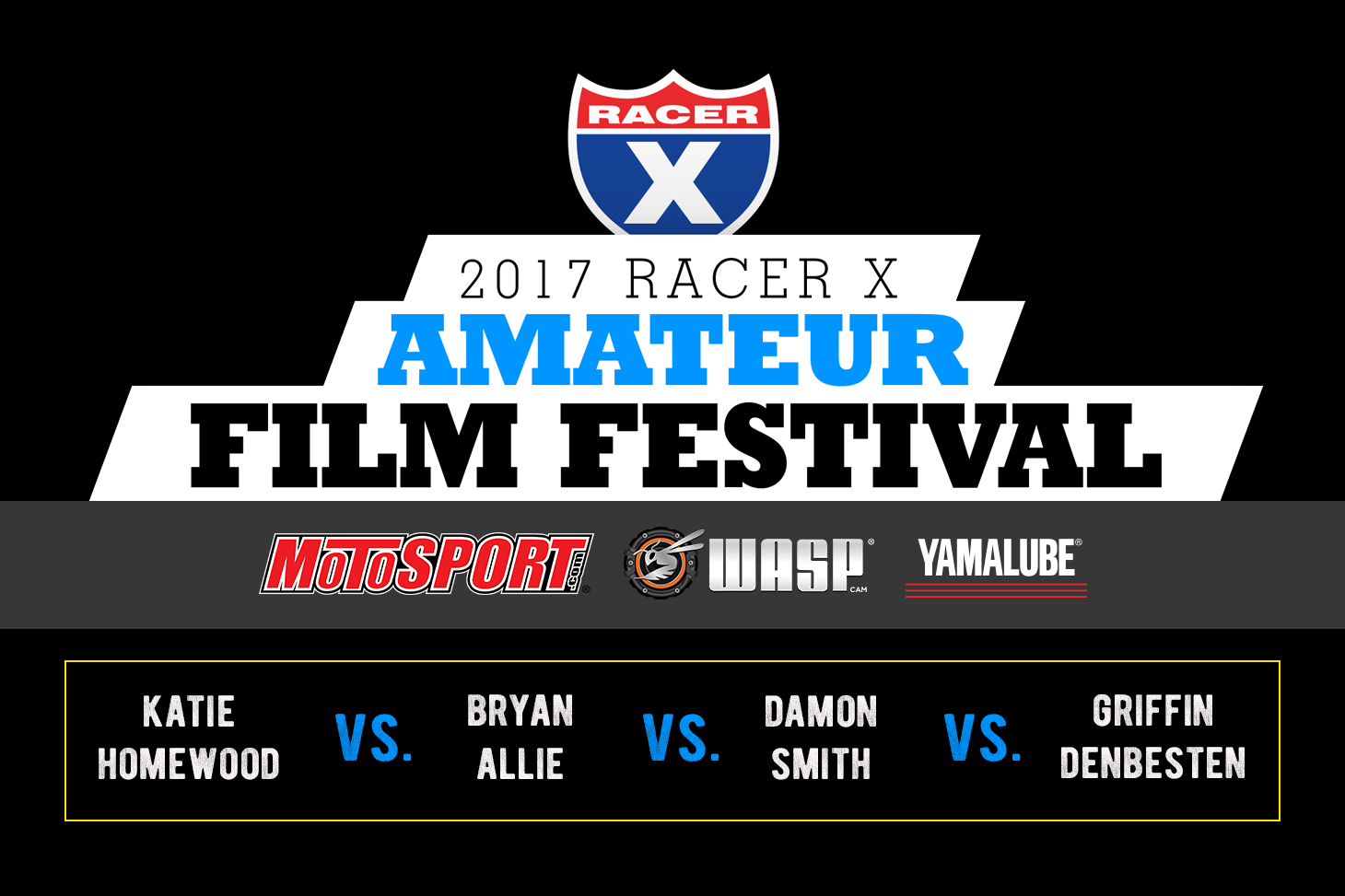 Yesterday was Thanksgiving, a day to give thanks for the things that we value the most in life. In dirt bike racing, something that we can all be thankful for are 125 two-strokes, so for this week's "Loretta Lynn's Remastered Video of the Week" we chose Schoolboy 1 (12-16) B/C – Moto 2. This class features a full gate of screaming 125 two-strokes, being ridden by the best 12-16-year-old amateur riders the sport of motocross has to offer. Among these standouts are names like: Jalek Swoll, Mason Gonzales, Palmer Neely, Austin Black, and Kaeden Kniffing. If you enjoy seeing (and hearing) a slew of crisp 125s being rung out for 20 minutes, then this moto is for you.
Watch the entire Loretta Lynn's Remastered Series at racertv.com, where a fresh batch of 10 motos—remastered in HD—drops each Monday!
Michael Stusiak sent us a link to this excellent video from the Race of Distinguished Gentlemen, which takes place on the beach in Wildwood, New Jersey.
"LAVAR BALL I Would've Thanked Trump IF HE PUT LIANGELO ON AIR FORCE ONE" - TMZ Sports
"Greyhound takes to the track for motocross." - Reflector
Random Notes
Subscribe now for as low as $9.98 and receive a FREE 2018 "Through the Decades" Calendar plus access to our digital edition.
Black Friday is here! Don't forget to stop by Racerxbrand.com this weekend to receive Black Friday deals of 25 percent off site-wide and up to 65 percent off select products. Sale goes through Cyber Monday so don't hesitate to receive great deals.
Quick Guide:
Go to Racerxbrand.com
Select desired products
Use Discount code BLKFRI17 to receive 25 percent off all products
Complete order
Thanks for stopping by, enjoy what's left of the holiday weekend, and we will get back to business next week. See you at the races.