Centurylink Field Seattle, WA Seattle Monster Energy AMA Supercross Championship
Welcome to the Race Day Feed, coming to you from CenturyLink Field in Seattle, where the thirteenth round of Monster Energy Supercross is set to play out this evening. We'll be covering the action all day and all night right here on Racer X Online, so be sure to check back often for updates. Posts appear in chronological order, so scroll to the bottom for the most recent information. For even more info, follow us on Twitter, @Racerxonline.
Rain, and plenty of it. That's what's been coming down here in Seattle this week (although the skies were blue yesterday), and with plenty more expected, an already soft track, which was actually built by Tuesday and has been covered since, will remain underneath a water-shedding layer of plastic until late this afternoon. The decision to revise the schedule (today's only round of qualifiers will begin at 4:20 this afternoon) was made yesterday in an effort to preserve the racing surface and to make sure it can stay covered and out of the elements for as long as possible. We've seen the track crew deal with rain events before and they've been able to do some pretty amazing things, but they may not be able to work their magic tonight. According to the weather report, we're almost sure to see rain coming down this evening during the races, which means we're probably in for a wild and sloppy night.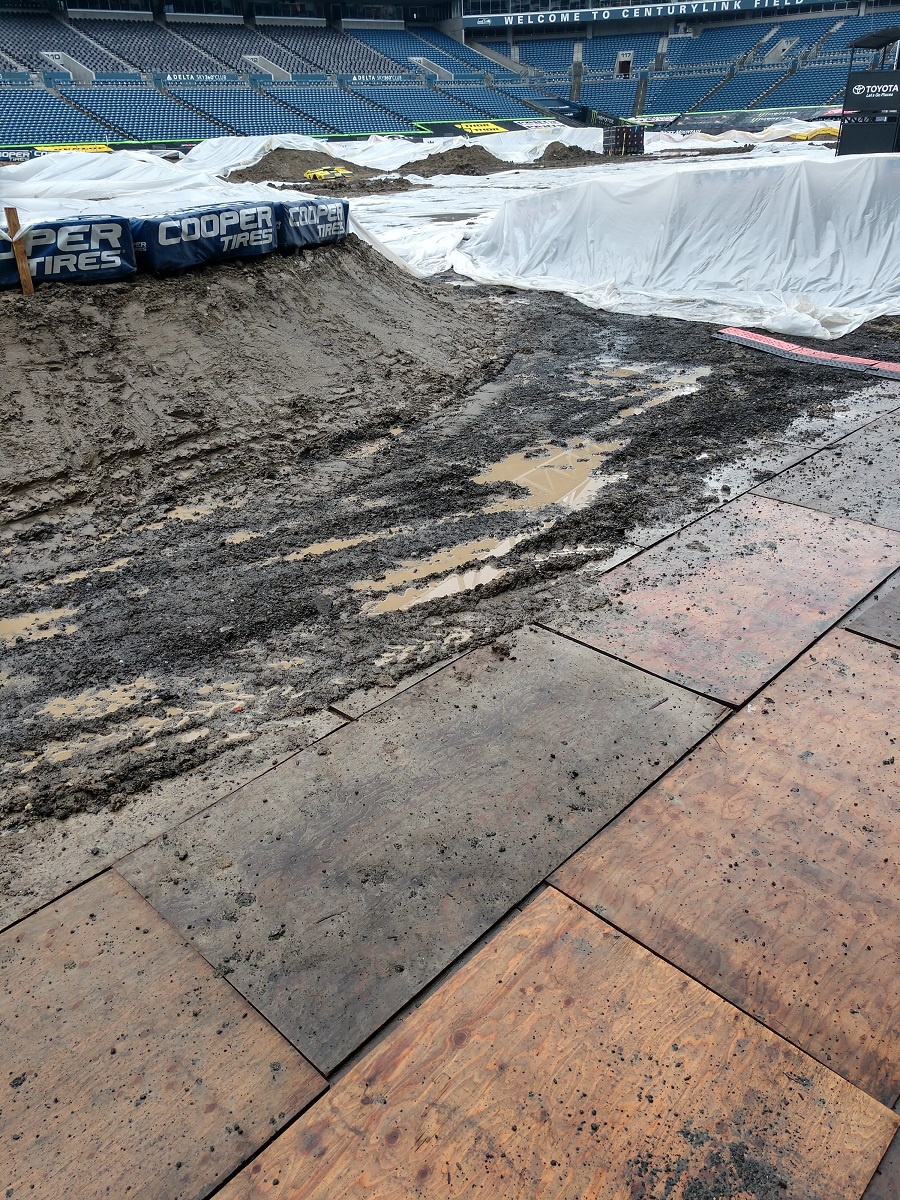 In other news we've got some riders returning to action this weekend. Justin Hill, who spent a portion of yesterday afternoon's press day riding around doing wheelies on a minibike and spinning laps on a pump track in the pits, is making his firsts appearance since breaking his toe in Atlanta. And speaking of people with the last name of Hill who are returning to racing, Justin's brother Josh will be filling in for the injured Justin Barcia today on the Monster Energy Yamaha. We spoke briefly with Hill about it in the pits yesterday and he told us he's done almost no supercross prep at all and was just looking forward to having fun. He seemed loose and happy, and didn't even seem to mind the prospect of mud.
Cycle Trader/Rock River Yamaha's Alex Ray is also here and will be gearing up for action tonight after just three days back on the bike following a dislocated wrist and ruptured patella tendon earlier this year. Yesterday Ray told us he had no pressure from the team to get back on the bike early, he was just tired of watching the races on TV. It was an interesting, informal, and at times, funny interview. Check it out right here. Ray will pit alongside Dylan Merriam, who is filling in at Cycle Trader/Rock River Yamaha for the injured Bradley Taft. For a full list of who's in and who's out, check out our weekly Injury Report.