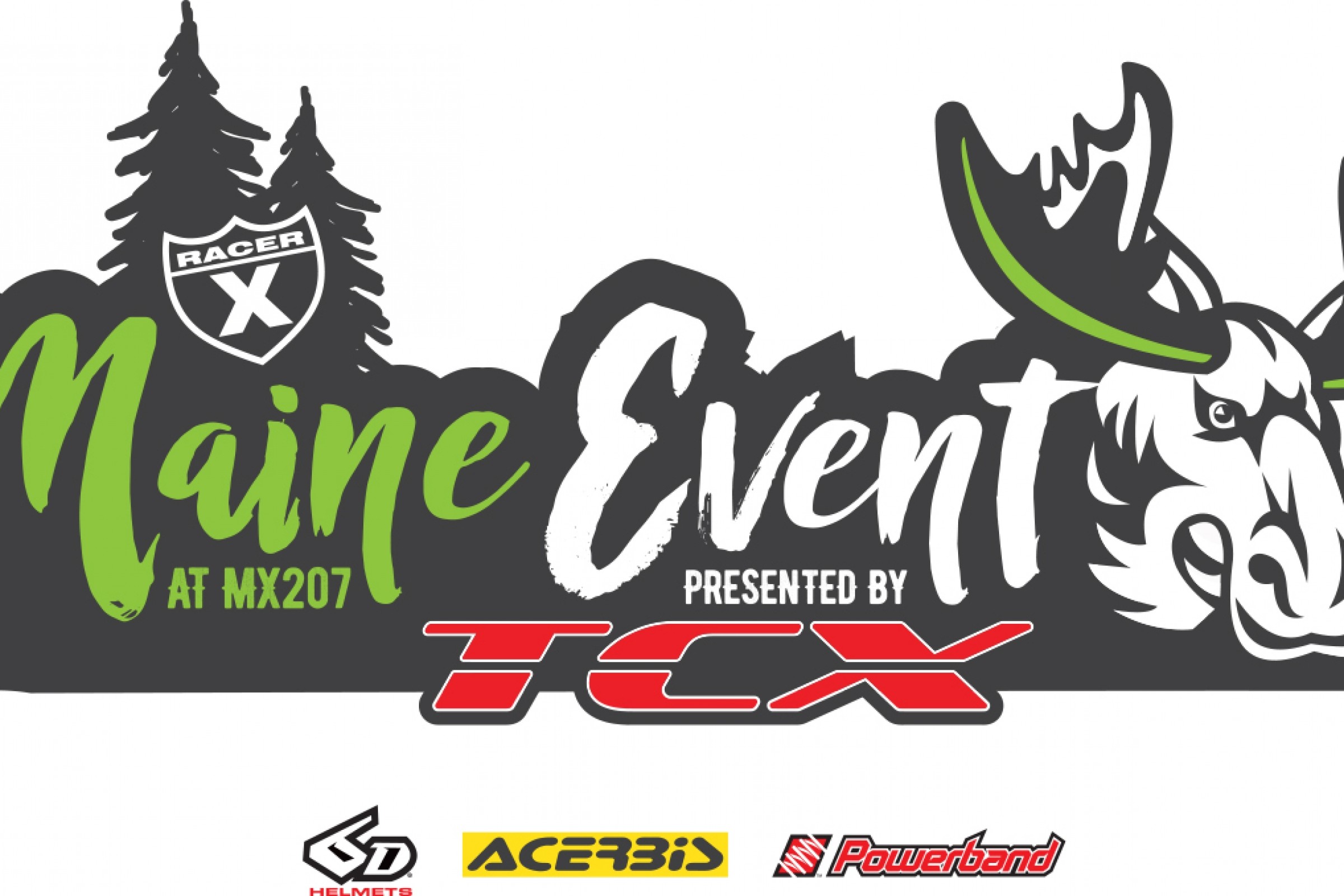 We've been talking a good game—we love this sport, we love the racers, and we want those racers and the races to thrive. So we're going to do something about it. Racer X is going to back a big local race and try to blow it up as much as possible.
The Racer X Maine Event, presented by TCX is an AMA Pro-Am event on September 15-17, at MX207 in Lyman, ME. MX207 has been racing on this weekend in the past, but this year they've joined forces with us (Racer X) and the AMA to make this an official Pro-Am and take it to the next level. With the (still increasing) Loud Fuel Pro Purse (currently at $11,000) and selected All-Star riders to run bibs as the "guys to beat" in their respective classes, this is shaping up to be the race with the most competition, the most track prep, and the best of times. This is the biggest stage in the Northeast to prove yourself and see how you match up against the best of the best, this is the race you need to get to, this is the race that matters. This is "The Maine Event".
The Racer X Maine Event is a Saturday/ Sunday race (four moto format) with an open practice on Friday from 9:00-3:00. Gates open for the weekend on Thursday at 4:00.
This is an AMA event. We've structured our classes around AMA ages and bike sizes. Please be aware of age requirements and machine criteria per AMA rules. A breakdown of the classes is available here.
Racing will feature a four-moto format, with overall finishes based on all four motos. Saturday includes motos one and two, Sunday includes motos three and four. If a class has 44 entries or more, racers must qualify out of heat one, heat two, or the LCQ on Saturday, and overall finishes will be based on the two motos on Sunday.
| | | | |
| --- | --- | --- | --- |
| Thursday | Friday | Saturday | Sunday |
| Gates Open | Practice 9:00-3:00 | 8:15 am Riders Meeting | 8:15 am Riders Meeting |
| | Pit Bike Races TBD | 8:30 am Practice | 8:30 am Sight Laps |
| | | Motos 1 and 2 | Motos 3 and 4 |
| | | 8:30 pm Theater | Race Awards |
Gate fees:
$25.00 weekend admission (all three days) $15.00 single day admission
$50 per day for vehicles arriving prior to Thursday. The track is closed Mon-Wed, there is no riding, pit biking, pit vehicles, etc. Parking will be assigned, check with MX207 staff before leaving vehicle.