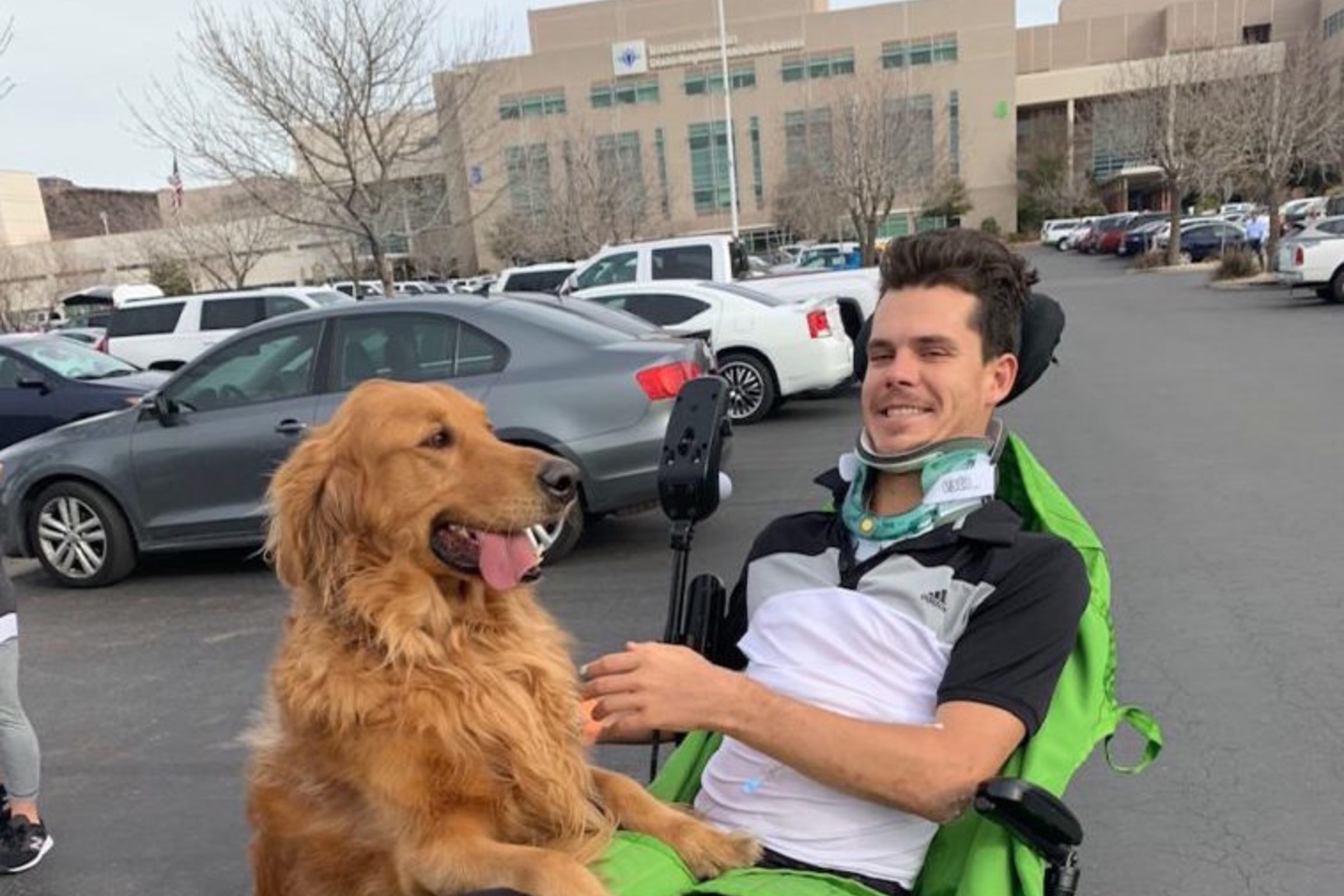 The motocross industry was shocked when news broke that Blake Savage, a former pro racer who now trains his brother-in-law Ken Roczen (Ken is married to Blake's sister), as well as Cole Seely, Christian Craig, Chase Sexton, and others, suffered a spinal injury while riding his dirt bike just days before the Anaheim 2 supercross. Blake is one of the nicest people in the pits, with a true zest for life, and the heart and soul of an athlete, through and through.
Road 2 Recovery has now put together a fund to help with Blake's medical costs as he rehabs from his injury. Currently, Blake has no mobility from his mid-chest down to his lower extremities but does have upper body movement with some limitations. Click here for a donation link to help Blake's cause. Road 2 Recovery's full press release on the Blake Savage fund is below:
Earlier this month on January 14, 2019, Blake Savage crashed while riding at a private supercross track in Mesquite, Nevada, sustaining a cervical spinal cord injury due to fractures to his C6 and C7 vertebra. Savage was immediately transported to Dixie Regional Medical Center in St. George, Utah, where his injuries were assessed and a surgical plan was quickly put into place. On Tuesday, January 15, Savage underwent successful surgery, where doctors completed a C5 to T1 posterior spinal instrumentation and fusion, which addressed the fractures and stabilized the spine.
As a result of his injuries, Savage has no mobility from his mid-chest down to his lower extremities but does have upper body movement with some limitations. He has been admitted into the in-patient rehabilitation program at Dixie Regional Medical Center, where he is working with therapists daily on core-strength, trunk control and pelvis movement. Savage is expected to be released in 2-3 weeks to begin the long and extensive out-patient rehabilitation program.
At the time of his injury, Savage had an insurance policy called a "Hospital Indemnity". While he is covered to an extent, this policy has a max yearly payout of roughly $47,000, which will likely be absorbed with the first surgical bill. His extensive hospital stay, in-patient and out-patient rehabilitation and additional wide-ranging medical needs are not covered.
Road 2 Recovery has started a R2R Fund where you can make a tax-deductible donation towards his cause at https://road2recovery.com/cause-view/blake-savage/. All funds raised will go towards Savage's recovery and help alleviate his mounting medical bills. If you're unable to support financially, please help by sharing his page. You can also leave a positive message for him and his family to read on his R2R Fund page.
Road 2 Recovery, along with some amazing partners will also be planning a "Cycling for Savage" event, which will take place in the coming months. More details will be released on his R2R Fund page, Road2Recovery.com and R2R's social media pages.
Savage remains positive in his recovery and has a great support system around him. He is tackling this challenge like the true athlete his is, keeping high spirits and a strong drive to achieve his next goals.
Everyone at Racer X—and the entire industry at large—wishes Blake the best in his recovery.
Want to know more about Blake? Check out this Racer X Exhaust podcast with him from 2018.