motocrossactionmag.com
THE AFTERMATH | SAN DIEGO SUPERCROSS
Photos by Spencer Owens
On a cloudy Saturday February 9th, the 2018 Monster Energy Supercross Series landed in San Diego's Petco Park for Round 6.
Like very Monster Energy Supercross, practice is what starts off the day.
Most riders were kitted in Military themed gear to show support for our nations troops.
In the 250 Session's, defending 250 West Coast Champion Justin Hill clocked in the fastest time.
And in the 450's, it was Eli Tomac on top for lap times. Only time would tell how the night show would pan out.
After the pits slowly came to a close and the lights went out, it was time to begin the night show!
Justin Barcia greets the SoCal fans during opening ceremonies.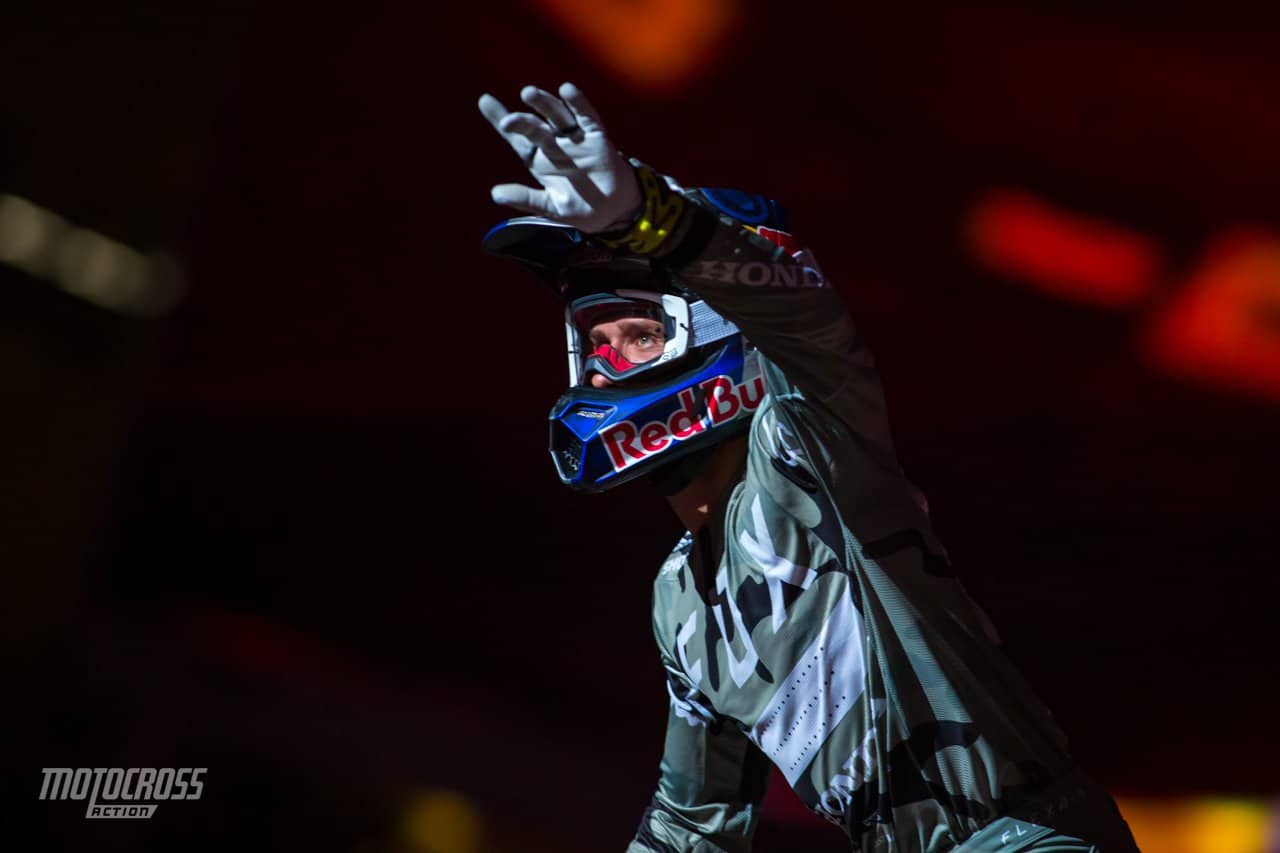 The fans got extra loud when Ken Roczen rode in.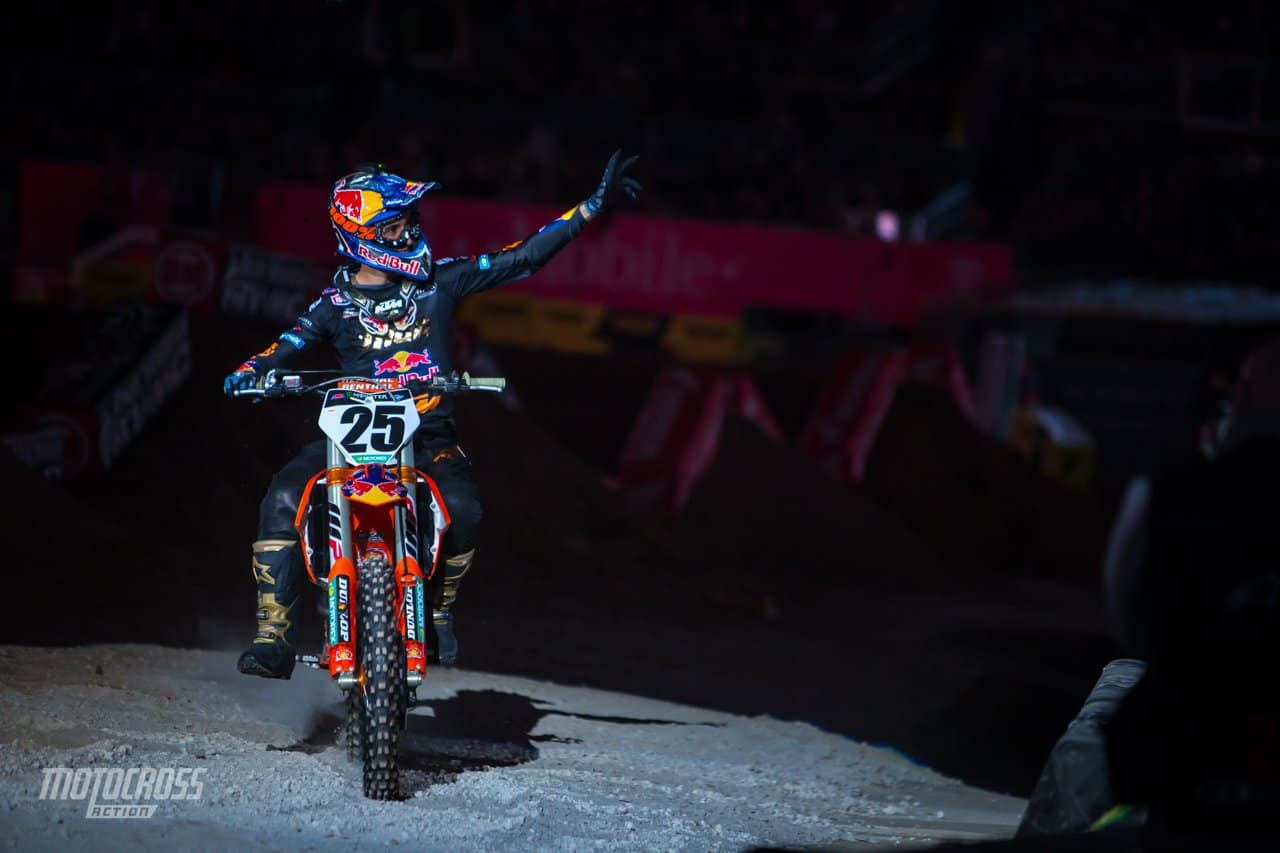 The million dollar man, Marvin Musquin was dressed in all gold for San Diego.
After the lights rose to begin the racing, we said goodbye to Davi Millsaps as he announced his retirement earlier in the week. We wish him all the best in his new career!
After all the stars of Supercross greeted the San Diego crowd, it was time to flip the 30 Second board.
This would be the last time we see the 250 West guys on the gate until Indianapolis for the "East West Shootout". Current 250 points leader Aaron Plessinger got off to a rough start in 250 Heat 1, and crossed the line in 3rd.
We were surprised to see Joey Savatgy even in the night show after his practice crash. In Heat 1, he would follow behind his teammate and grab 2nd.
Adam Cianciarulo would go on to win yet another Heat this season.
Heat 2 was on the line next. Alex Martin (26) would jump to the early lead.
After a lap or two, Justin Hill would steal the lead and the eventual win.
Christian Craig followed closely behind for 2nd.
And Chase Sexton would end 250 Heat 2 with a 3rd.
Next up was the 450 Heats. In Heat 1, Jason Anderson checked out and ran away with the win.
Justin Barcia gave it all he had, but just couldn't move out of 2nd.
And Weston Peick managed to hang on for a 3rd to round out 450 Heat 1.
Monster Energy Girl Kelly Celland rose the board for 450 Heat 2.
The scariest this in our sport is getting landed on. Unfortunately for Justin Bogle, it become a reality. He was landed on by Ben Lamay, and the race was red flagged.
At the restart, Blake Baggett nailed a flawless start, and finished 4th.
Eli Tomac crossed the line in 3rd.
Cole Seely landed in 2nd after making some aggressive moves.
And Cooper webb managed to grab his first Heat win of the season.
Next on the list was the 250 LCQ.
Justin Heoft had a nasty crash in practice, and went down in his Heat. In the LCQ, he jumped to the early lead, but had another crash leaving him carted away.
After Heoft's crash, that left Hayden Mellross, Michael Leib, Ryan Breece, and Bradley Lionett with the final transfer positions.
In the 450 LCQ, Ben Lamay ran away with the win followed by Adam Entiknap, Kyle Cunningham and Dakota Tedder.
At last, it was time to start lining up for the Main's. First up, 250!
Off the gate and into the first turn, Joey Savatgy and Justin Hill ran up front until..
Adam Cianciarulo stole the lead away and managed to check out. But the defending champ wasn't going to let AC out of his sights.
Chase Sexton mad an aggressive move on Joey Savatgy, and put himself in 3rd.
Eventually, Justin Hill made the move on Adam Cianciarulo and left him in 2nd.
And Justin Hill would go on to win the 250 Main in San Diego! Here, he celebrates with his older brother and former pro, Josh Hill.
Offcial results: Justin Hill (1st), Adam Cianciarulo (2nd) Chase Sexton (3rd).
250 SUPERCROSS POINTS STANDINGS (ROUND 6 OF 10)
Aaron Plessinger–134
Joey Savatgy–129
Shane Mcelrath–117
Adam Cianacirulo–116
Chase Sexton–107
Christian Craig–106
Justin Hill–105
Kyle Chisholm–83
Mitchell Harrison–72
Hayden Mellross–67
Next up, the 450 Main! In turn one, there was a massive pileup taking out riders like Eli Tomac, Cooper Webb and Ken Roczen. Tomac would immediately ride off into the tunnel calling it a night.
Early on, Cooper Webb would run into some trouble with Ken Roczen. Cooper Webb finished 19th, and Ken Roczen didn't finish due to casualties from the crash.
We haven't talked much about this guy in recent weeks. He got a solid jump off the gate, and held down 3rd for multiple laps until making a mistake and falling back to 13th.
This was definitely not the night that Justin Barcia had in mind. His rear brake fell off, and had to muscle through it. He finished 8th.
Back to the front. Cole Seely jumped to the early lead, followed by current points leader Jason Anderson in 2nd. After awhile, Jason Anderson would make the move on Cole, and take over the lead. Cole Seely dropped back to 4th.
Blake Baggett took advantage of everyone's mistakes, and put the "RMATVMC" KTM in 3rd.
Its been since Anaheim 1 that Marvin Musquin has been on the podium. In San Diego, he finished 2nd.
And "El Hombre" (Jason Anderson) ended up on top once again in 2018.
Photographer Spencer Owens caught a glimpse of a very frustrated Justin Barcia after the race was done.
Official results: Jason Anderson (1st), Marvin Musquin (2nd), Blake Baggett (3rd).
450 SUPERCROSS SEASON POINTS STANDINGS (6 OF 17 ROUNDS)
Jason Anderson (Hus)…141
Justin Barcia (Yam)…113
Cole Seely (Hon)…106
Ken Roczen (Hon)…102
Blake Baggett (KTM)…99
Justin Brayton (Hon)…99
Weston Peick (Suz)…96
Marvin Musquin (KTM)…96
Josh Grant (Kaw)…83
Broc Tickle (KTM)…82
Can anyone stop Jason Anderson? Find out next week in Arlington, Texas.