motocrossactionmag.com
MXA INTERVIEW: JUSTIN BOGLE TALKS PROGRAM CHANGES FOR 2018
It may be the summer of 2011 that was one of my favorite memories of Justin Bogle. Here he was making his pro debut wearing number 891 at a couple of the outdoor motocross races on his CRF250 Geico Honda, and throwing some of the biggest whips that I have ever witnessed. Not only that, when I interviewed him, he was just a fun loving kid happy to be racing as a pro. Years later, Bogle would win a 250 East coast Supercross championship. That in itself is huge, but Bogle had been injured and basically came into the series still injured. Justin would move up to the 450 class with Geico Honda in 2016, and had a few decent rides on the big bike. For 2017 he signed with the RCH/Yoshimura Factory Suzuki team to contest the 450 Supercross and motocross championships. The year did not start well, and bogle grew very frustrated. But after changing up his entire program he won a 450 moto at Lakewood/Thunder Valley. Not only did he win his first 450 moto, he dominated it. Later in the summer he took the 450 overall win at Budds Creek, cementing himslef in the record book as one of the few who won an overall in 2017 450 motocoss. With the RCH/Yoshimura Suzuki team folding at the end of 2017, Justin has found a new home with JGR Autorader/Yoshimura/Suzuki factory team for 2018. We recently caught up with bogle as he was doing his 2018 JGR photo shoots.
BY JIM KIMBALL
JUSTIN I WANT TO GO BACK TO EARLIER THIS YEAR. SPEAKING WITH YOU AT THE DETROIT SUPERCROSS, YOU SEEMED REALLY DOWN ON YOURSELF. I actually remember our conversation. I was sitting down at the start straight on press day talking to you. I was so over it, and I was completely fed up with everything. To be honest with you, I was as frustrated and disappointed in myself as possible. I was really, really down on myself. I was to the point where I was not sure about my future and this sport in general, just because I was doing so badly. It was tough for me because I know that I am very capable, especially proving to myself this summer that I could win. There are not many people that win on 450's, so to turn it around from that interview that we did, it was pretty inspiring for myself, for my future, and showing myself what I could do. I knew that I had that capability the whole time, so when I was struggling to even get a top ten; it was an unreal feeling during the week. I could not understand how I was going to continue if I could not figure it out.
WHAT HAPPENED NEXT? Very soon after that I changed every single aspect of my life, and switched my whole program around. Then I started getting better from there. It is true; you have to bounce off the ground before you come back up some times.
STILL, BEFORE THAT YOU WON A 250 SUPERCROSS CHAMPIONSHIP, NOT MANY RIDERS CAN CLAIM THAT. Like you said, I won a Supercross Championship on a 250, and I pretty much did that straight off the couch. I rode for about two weeks before the season started, so literally off the couch. I did not even get my training in during the off season before I got hurt, so whether I was the fastest guy or not that year, it does not matter to me because I know what went down. So when we talked in Detroit I was sitting there like "man, I know that I can do this", but I have been struggling being prepared, having injuries, and just dumb stuff was difficult. It was just hard to get the ball rolling and get some forward momentum going for the longest time, so it was pretty disheartening honestly. I was not a top ten-place guy, yet alone wherever the hell I was finishing – I don't even remember. I literally don't know where I ended up in Supercross or what my finishes were. Actually my best finish was when I crashed, and just rode around for the last half of that main event, so that tells you how Supercross was.
THERE MAY HAVE ALREADY BEEN SOME RUMORS ABOUT RCH BEING IN TROUBLE, DID THAT BOTHER YOU? Well there had been rumors, and stuff before the season even started. But everyone shut that down, but there was always a chance that things could go that way. I guess it is that with any team, but everyone was very reassuring that "no, you are good, we got to finish this year, and then we will figure it from there." I always thought they were going to get it figured out. Everyone there was incredible, so I never doubted those guys. I never thought that there was a chance that things just would not happen, so at that point, it was more so like it did not matter if they had a team or not, I was not going to be on it if I kept riding the way I was.
TALK MORE ABOUT HOW YOU SWITCHED THINGS UP, AND REGROUPED? I switched everything up to be honest. That was huge, and I am super grateful for everyone there that helped me, like Ricky (Carmichael), Jeannie (Carmichael), and everyone there for giving me that opportunity. I just needed some help, and everything happens for a reason, and goes how it is supposed to. When I was struggling, I talked to Ricky one weekend after one of the races, and I was ready to just throw myself off the top of the semi, just trying to figure something out. I got to talk to him luckily along with a bunch of great people in my life. My family is awesome, my agent, my girlfriend, and everybody helped me get moving, and get all the things done. I switched out trainers, and I switched were I was living. I went to Tallahassee, Florida where I had never been. I just showed up, and got an apartment. I only had lawn chairs, and a TV for about two months, but it did not matter at that point, you know? Whatever I had to do, I was going to do. I changed everything, but it had to happen.
OBVIOUSLY YOUR CHANGES WORKED. AT THE THIRD ROUND OF THE OUTDOOR NATIONALS YOU WON A MOTO! Yes, I needed to get some momentum, and I needed something good to happen. I was just thankful to have a full summer of doing a program that I believed in. I came into the outdoors a little slow, but was able to build and get better. I think I was top ten at the first round, and nothing to write home about, but I was just trying to have some sustainable growth and work my way up. But then I went out and won that moto by 12 seconds, and threw that whole plan out the window.
I WAS THERE AT THUNDER VALLEY, AND EVERYONE SEEMED EXCITED FOR YOU TO WIN A MOTO! It was good because I saw what was possible with myself, and I saw what I was capable of. I saw that this is working, all these changes, selling my house and moving to a place where I had no friends was paying off. I struggled for a little bit after that, so I was glad that I had the full season, because I was able to build, and come up. It was a bit of a rollercoaster, and I had to figure a lot of things about my program and me. It was good there by the end, and I ended up winning a race (Budds Creek) that I did not luck into it either. I straight up won that day so that was pretty cool.
THAT HAD TO BE HUGE FOR YOURSELF, AND FOR THE RCH TEAM. Of course it was huge. It was huge for me, especially coming from the last 12 months there. I had been struggling, and the uncertainty with the team folding, and all that information coming out. That overall win at Budds Creek was incredible. You can't mail it in and win a 450 National, so I was super proud of all of those guys at RCH, and very thankful that they were willing to keep putting in the work for me, because I needed that. I needed that for my career; I needed that for my life, and for everything going back in the right direction, so that was big for me.
AND ESPECIALLY AS THAT RACE WAS SO LATE IN THE YEAR WHEN SILLY SEASON WAS IN FULL EFFECT. Yes, it was awesome, and was good timing. I am not saying that I won that race and then I got a deal, because we had been working on things before that obviously. But it did kind of seal the deal for me. It was proof to the people writing my checks that they were making the right decision, and it proved to me that there was more of that in the tank, if I just stayed focused. It was just tough. I feel like I don't get much credit for that win, but that is what we are working for. I know that I need to be more consistent, and that I am capable of winning and being up there, I just have to do it more often.
THERE WERE NOT MANY RIDERS THAT TOOOK AN OVERALL WIN IN THE 450 OUTDOOR CLASS THIS SUMMER. There are not many people that are going to believe in you until you are winning everything, so I know that I am capable of winning. There are not many people that can go out and win 450 races, whether its indoor, or outdoor, it does not matter. For me it was just more so continuously getting up there, and becoming a regular frontrunner, instead of just going out and being able to go out and win by 12 seconds randomly.
WHEN DID YOU START TALKING TO THE JGR TEAM? Obviously before the announcement was made about RCH there were people behind the scenes that know that the team is not going to be coming back. So I had been working on trying to get something done. It is dog eat dog out there, and it is tough because this is your whole livelihood, and how you pay your mortgage. It is just tough to be in limbo like that. Especially for me; I have not got many good deals the last few years, so for me it was pretty necessary to go out and make something happen or else I might have been in quite a bind.
YOU HAVE NOT BEEN WITH JGR FOR A LONG TIME NOW, BUT IS IT SIMILAR TO WHAT RCH WAS? It is definitely a little different. There are no two teams that are going to be the same. There are going to be different nuances and things about each place that are different. Definitely being located on the East Coast, and the team being a little more on their own, it is quite of a difference. I think that it is the biggest thing, being more on the east coast. But it is a similar feel, maybe a little more laid back. The way they do things are a bit different, but so far so good. RCH was an incredible group of people, and now I could not ask for a better group to transition into. Staying on Suzuki has been great, and I still work with some of the same guys. So, it was an easy transition.
HOW IS THE 2018 BIKE COMPARED TO THE 2017? It is good. It is definitely different. Being a new bike, it makes it one of those things that you have to take your time with, get your testing done, and get all of the little things worked out before you are ready to go race. I was ready to go to Monster Cup to figure out a lot of the stuff that was going to pop up, but that obviously got cut short before it got started, so I did not get much out of that. But I got a little testing in, and got some time in with the guys getting things figured out. It is coming around. The bike is awesome, but it is like any new bike, it takes you a while to adjust. Suzuki has always had a reputation for having a great motorcycle. It was time to update it and make some improvements, but they have always had that reputation, and had great bikes. They just had it really figured out, and I don't think you ever heard anyone that rode one complaining about it.
HAVE YOU BEEN GELLING WITH YOUR NEW TEAMATES? We are all cool; there are not any issues. Sometimes you go certain places and there is the potential that things don't always work out. I have not spent a lot of time with Weston (Peick), but have no issues with him. I have been around Justin Hill a little bit and I was teammate with Jimmy Decotis at Geico for a while and I really like him. I pretty much know everybody, so everyone is cool. It is a good group. I spend a lot of my time now obviously in Florida, so I am not up here a whole lot, like not on a regular basis. But it is nice to be able to work well with everybody.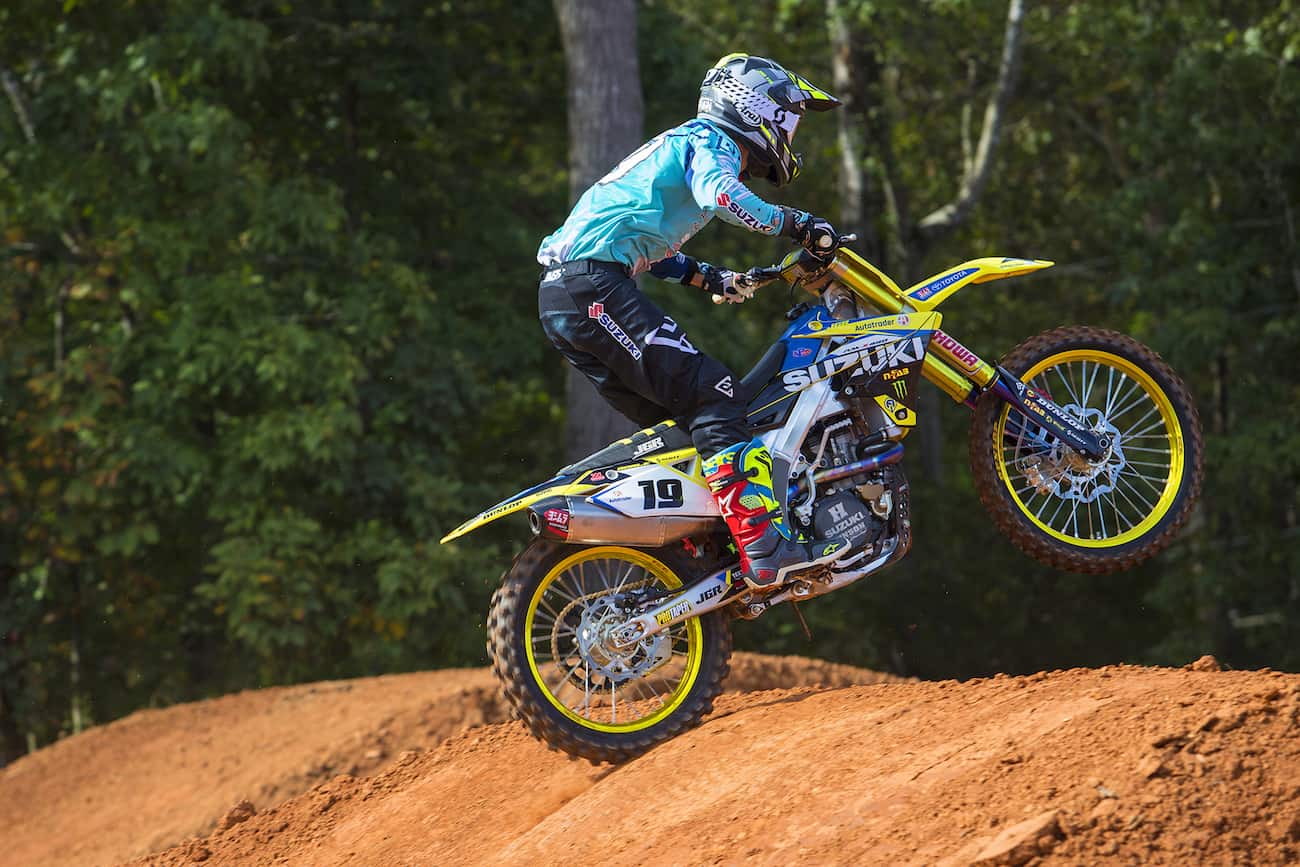 ARE YOU STILL WITH RICKY? Yeah, I am still down in Tallahassee. I ride together with Joey Savatgy, and I have been a friend with Joey for a long time so we all work well there too. There is a good group of guys out there right now. We work together and help each other out. We don't always do the same thing, but we do stuff together and we all critique each other after every ride. After the hard part is done it's just fine tuning everything and trying to stay ready. Dirt bikes can difficult, so make sure staying ready and on track. Trying to stay healthy and all of that.
WHAT ARE YOUR THOUGHTS ON 2018? I finally have my program figured out as long as I can stay away from the annoying little issues that come with this job, and stay healthy and keep moving forward. I am expecting much more out of myself this year, so I know what I am capable of and I should be a front-runner. There is no doubt in my mind.