motocrossactionmag.com
RUMORS, GOSSIP & UNFOUNDED TRUTHS: SOCAL HAS TWO SEASONS — WINDY & HOT
FIRE & WIND HAMPER SOCAL SUPERCROSS TESTING

Supercross testing this week looked a lot like the old old days.
Almost every factory and support team had their test Supercross tracks rebuilt over the last couple weeks. They all planned to get in a couple weeks of testing with their team riders before everybody went home for Christmas. It hasn't worked that way. A sudden Santa Ana wind condition has blanketed Southern California with 30, 40, 50 and 60 mph winds for the last week. And the winds have spread fires all across San Bernardino, Santa Clarita, Ventura and Los Angeles. The fires are whipped to a frenzy in the winds and spread like, dare we say it, wild fire. Homes have been lost, people's lives changed and the freeways snarled as the fires bunnyhop across them.
The riders have been able to get in a few laps when the wind dies down, but with gusts to 60mph no one wants to jump anything big. Luckily, as Roger DeCoster said, "Our riders have done most of their testing in Florida and we were only doing the California test session as a final tune-up. The winds are scheduled to stop on Friday night.
MOTOCROSS INTERVIEW: JGRMX'S RENE ZAPATA
RENE, HOW DID YOU GET INVOLVED IN THE MOTORCYCLE INDUSTRY? The funny part is that I was never into dirt bikes growing up. My brother was the one that really wanted a dirt bike. My dad promised him a dirt bike on his 12th birthday. His birthday came around, but there wasn't a dirt bike to be seen. So my brother called my dad out [laughter]. Looking back now, it's strange how dirt bikes didn't interest me. I had played baseball since I was three years old. Around the time I turned 16 I started riding a little, but was never serious about it. For some reason I enjoyed working on the bikes, though. It felt natural to me. When we moved to south Florida from Puerto Rico, we met a man by the name of Jim Peli. He owned a small shop in Bithlow. Jim noticed that I was pretty good at working on bikes. He was a teacher at Motorcycle Mechanics Institute, and he suggested that I attend MMI. I was 17 years old at the time. It was weird, because I didn't even have my high school diploma yet [laughter]. I passed the admissions test and graduated from MMI when I was 18. A month later I met up with Matt Boni at a motocross track. The countershaft sprocket on his bike was making a weird noise. I swapped the sprocket for him really quickly. Matt then told me that he needed a mechanic, so he talked to his dad and we worked out a deal.
MATT BONI HAD A SUCCESSFUL AMATEUR CAREER. WHAT WAS IT LIKE WRENCHING FOR HIM? Matt had just turned 14 years old. We worked together for several years together when he was still an amateur. He won a bunch of races. All he had to do was ride. I was hired to work on the bikes. Matt, his father and I traveled all around the country to go racing. It was a fun time. If it wasn't for the Boni family I might not be where I'm at in my career now. Matt's first Pro year was in 2007 on the MotoSport Outlet team. If I recall, the team that year was Kyle Chisholm, Steve Boniface, Bobby Kiniry and Matt.
YOU EVENTUALLY STARTED WORKING WITH OTHER RIDERS. WHO ELSE HAVE YOU WRENCHED FOR? I remained on the MotoSport team for 2008, while Matt went in a different direction. I worked for Andrew McFarlane that season. The following year I assembled engines and took care of parts. In 2010, the team switched to Suzuki. I worked for Ryan Morais in 2010 and 2011. The following season I moved to the JDR Motorsports KTM team, with my focus being on engine assembly. That continued into the 2013 Supercross series, but then the team folded. Ray Tetherton from Suzuki called me and offered a job as a test mechanic. I jumped at the opportunity. In October of that year I was given the opportunity to be James Stewart's mechanic. I already had a relationship with the Stewart family, because Malcolm was on the JDR Motorsports team while i was there. I knew James a little bit prior to working for him.
WHAT LED TO YOUR DECISION TO MAKE THE MOVE FROM SOUTHERN CALIFORNIA TO JGRMX IN NORTH CAROLINA? It was a hard choice. California became my home. Having said that, North Carolina felt comfortable to me. Working at JGRMX is also a great opportunity. There's a lot going on here. I could have stayed in Chino, California and worked with the team from a great distance, or be in the thick of things and working with a cool group of people. I wanted to be with the team, and be surrounded by a group of people who are all working toward the same goal.
WHAT ARE YOUR JOB DUTIES ON THE JGR TEAM? I'm responsible for ordering all of the factory parts–what's needed and what we might not require. I'm basically the middle-man between Suzuki in Japan and the Autotrader/Yoshimura/Suzuki Factory Racing Team here in North Carolina. Dean Baker handles the engines, and he's the lead technical person. My goal is to handle all of the mechanics so that people aren't constantly going to Dean. I give the mechanics all of their race parts. Right now they have a list of things that need to get accomplished before the new season begins. I help them with anything they need, from wire routing to lacing their wheels and changing hardware on the bike.
YOU HAD TO ORDER WORKS PARTS BY THE END OF SEPTEMBER SO THEY COULD ARRIVE PRIOR TO THE START OF THE 2018 SUPERCROSS SERIES. WAS IT CHALLENGING TO FIGURE OUT THE ORDER QUANTITIES? It comes down to bike numbers, really. How many bikes will each rider use throughout the year? Usually a 450 rider will be allocated 4 to 6 bikes. That also depends where the rider is living, as he may need an extra practice bike. Along with the race bike on the semi, there's another spare bike for each rider on the semi. Once that's figured out, I determine how many parts per category are needed. Things like brake pads, frames, handlebars, and on down the line. I've learned through the years how long all of the parts last. Then I come up with these crazy numbers. People always look at me and ask, "You need how many of what?!" It's pretty funny. I also have to take into account whether every rider is using the same parts. You can have four different front brake options, for example.
LET'S RUN THROUGH SOME NUMBERS WITH REGARD TO THE AMOUNT OF EACH PART THE TEAM WILL GO THROUGH FOR THE 2018 SEASON. Usually we go through 100 sets of plastics just on the 450 side for the year. We have four 250 riders and two 450 riders, so we'll go through 12 to 16 works front calipers. With two to three sets of wheels per rider, that's 40 to 50 sets of wheels. The numbers are crazy.
HOW MUCH TIME DO THE TEAM RIDERS PUT ON THEIR FRAMES BEFORE THE MECHANICS USE THEM ON THE RACE BIKES? We try to put anywhere from two to five hours on each frame. It all depends on the rider. Sometimes a rider will like a firm-feeling machine, so the mechanic will build a fresh race bike and the rider will line right up on it. Some guys want more of a worn-in feel, so we let the guy ride the main chassis and swingarm until they feel that it's more comfortable. Then we swap that frame out for a new frame, and the rider will break that frame in on his practice bike.
PEOPLE MAKE A HUGE DEAL OUT OF WORKS PARTS. YOU'RE AROUND THESE EXOTIC PARTS ALL DAY LONG. DO YOU STILL GET EXCITED WHEN YOU HOLD A WORKS PART IN YOUR HAND, OR HAS THAT WORN OFF? I've learned that you cannot get attached to works parts. At the end of the day, parts wear out and if you hold on to them then you're quickly going to run out of room. When the season is over I'll go through everything. Some of the parts will be kept, while most will either be recycled or destroyed. The Japanese like parts to be destroyed. People look at me like I'm crazy when it comes time to cleaning out inventory, but it has to be done. You can't get too attached. They're pieces of metal.
THE 2018 SUZUKI RM-Z450 IS AN ALL-NEW MOTORCYCLE. HAS IT BEEN CHALLENGING TO FIGURE OUT WITH REGARD TO NEW PARTS? The chassis is different. The engine is somewhat similar, but with more advancements. A lot of the chassis hardware does transfer over. Things like wheels and triple clamps are the same. Other parts, like the linkage, frame, swingarm and subframe, did change. Still, the bike has maintained that trademark Suzuki feel. The team had a good base coming into the start of 2018 testing.
WHAT ADVICE WOULD YOU OFFER TO SOMEONE WHO WANTS TO LAND A PARTS MANAGER JOB IN THE MOTOCROSS INDUSTRY? Keep your head down and work hard. Everyone is always watching, whether you think they are or not. Someone will notice you if you're doing your job and putting in the effort. Also, don't be afraid to talk to everyone in the pits.

The last time anyone saw Jody Weisel race was when he walked away from a 16-bike pile-up at the top of Glen Helen's Mt. Saint Helen.
The crash from a different view.
Every day MXA gets emails asking how Jody Weisel is doing after being involved in a Glen Helen crash that claimed 16-riders back in October. Since then, he has been at the track helping the rest of the MXA test riders, but for the first two weeks the doctors couldn't operate on his broken arm because it was too cut up from cartwheeling down the hill. They didn't want to run the risk of putting the plate in until all the cuts and abrasions were healed.
Jody's arm five minutes after the crash. Can you tell where the two breaks are?
Jody's arm 22 days after the crash. The cuts were still visible.
After he got it plated, they took the stitches out eight days later, and then put his left arm in a cast—because there was a second break farther down on the same bone. Now, Jody's in a cast until Christmas.
The X-rays.
Jody is fine. He's bored with waiting for his arm to heal, but since his 117 consecutive straight race string, without missing one, has been broken there is no rush to come back right away. He will need time to rehab an arm that will have been out of action for 60 days.
2ND ANNUAL JESSY NELSON MX SCHOOL ON DEC. 16

To register and more details go to https://r2r.regfox.com/jessy-mx-2017
PRO CIRCUIT'S 12 DAYS OF CHRISTMAS SALE STARTS DEC. 8

For more info go to www.procircuit.com
REM WRAPS UP 2017 WITH THREE RACES IN DECEMBER

For more info go to www.remsatmx.com
GET MXA & DIRT BIKE FOR $26.95 & EARN $50 IN ROCKY MOUNTAIN GIFT CARDS
Do you subscribe to MXA? You should. We know that you think that print magazines are dead and that the internet will fill the void, but most of the stuff in the current issue of MXA won't appear on the web for several months, if at all. Luckily, you can get all of MXA on your iPhone, iPad, Kindle or Android by going to the Apple Store, Amazon or Google Play or in a digital version. Even better you can subscribe to Motocross Action and Dirt Bike at the same time and get $50 in Rocky Mountain ATV/MC gifts cars to spend on whatever motorcycle parts or products you need. You can call (800) 767-0345 or go to www.hi-torque.com/mxcombo.
BIKES YOU'VE NEVER SEEN BEFORE: 2004 SYNERGY Q450 MOTION

This carbon fiber framed bike was the hit of the motorcycle shows back in 2004—until it was stolen from the floor of the InterMOT show. This is the Supermoto version, but we never saw the motcross version run. Synergy disappeared as quickly as they arrived.

MEMORIES OF THE WAY WE WERE: THE GREEN MXA HELMET

What would the MXA wrecking crew look like if you had selected green instead of orange helmets? Willy Musgrave demonstrates.

When MXA decided to go with one helmet paint job for every test rider, we actually had Troy Lee paint us green, red, blue, chrome and orange helmets as a test. In the end we found that orange photographed the best and over time retired the other colors, but you can still find bike test in magazines from the early 1990s with the other colors.
BIRTHDAYS OF THE STARS: LANCE SMAIL, RON LECHIEN & BEN TOWNLEY


Dec. 7…David Philippaerts 1983
Dec. 7…Bob Morales 1963

Dec. 9…Ben Townley 1984 Dec. 10…Earl May
Dec. 11…Darrell Shultz

Dec. 11…Lance Smail 1970 Dec. 11…Keith S. Johnson 1970
Dec. 11…Wally Deicken 1937

Dec. 13…Ron Lechien 1966 Dec. 13…Brian Fleck
Dec. 13…Mike Buckley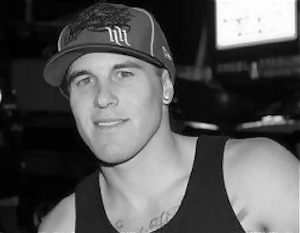 Dec. 13…Chris Blose 1987 Dec. 14…Bill Butcher
Dec. 15…Doug DeHaan
KTM ENGINES THAT COULD BE IN THE 2019-1/2 FACTORY EDITION

KTM's four-cylinder MotoGP engine. Currently in testing for the 2017 MotoGP season.


KTM's 250cc, single-cylinder Moto3 road race engine. It is one of the fastest engines in the class.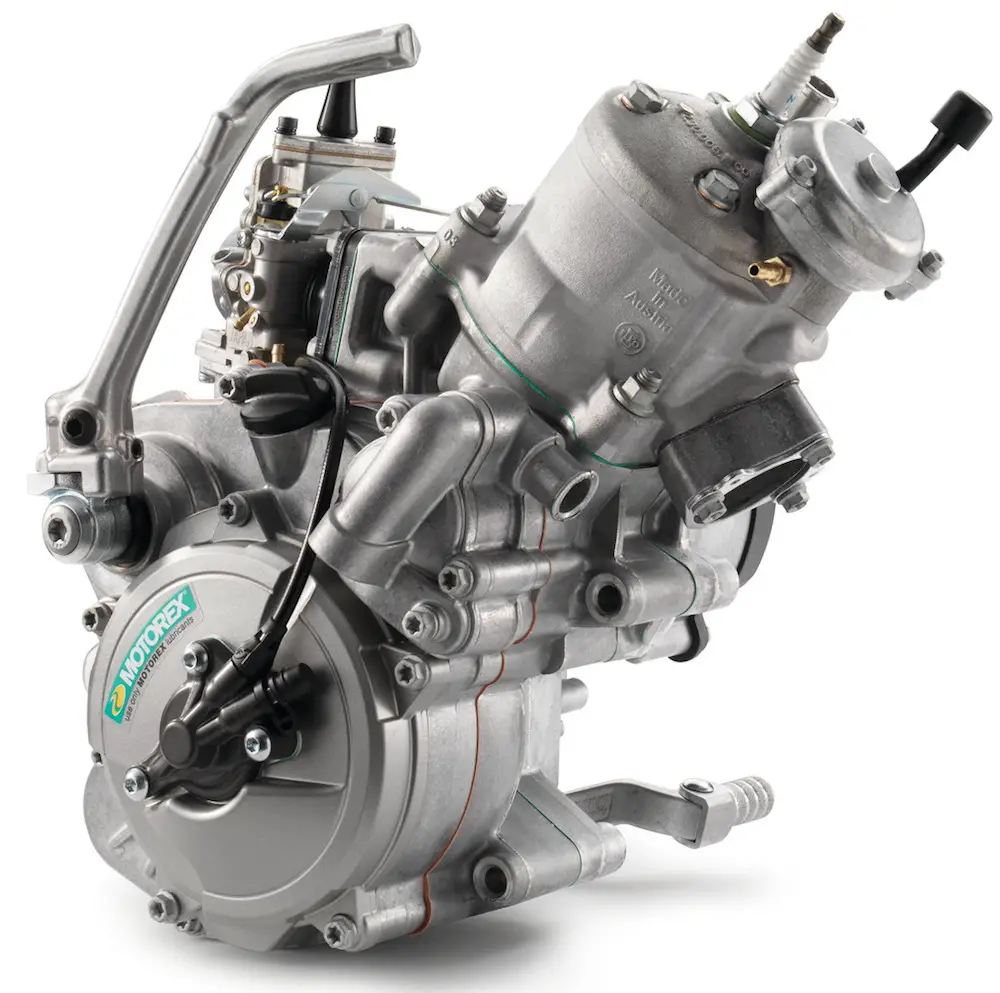 KTM's 65cc two-stroke engine from the 2016 KTM 65SX. It bears a resemblance to the Moto3 engine—except in displacement, size, type, use, horsepower and cost.
KTM's single-cylinder 450cc Rally engine with air intake attached.
KTM's V-twin, 450cc Supermoto engine.
CLASSIC MOTOCROSS ADS: SIMPLE IS BEST
This was Yamaha's ad following the Evel Knievel's $100,000 Snake River Canyon motocross race.
KTM'S CASEY LYTLE ON THE 2018-1/2 KTM 450SXF FACTORY EDITION


The 2018 Supercross schedule starts on January 6, 2018, at Anaheim Stadium, before going to Houston on January 13. Check the complete schedule out below,

2018 AMA SUPERCROSS CHAMPIONSHIP Jan. 6……………………..…Anaheim, CA Jan. 13………………………Houston, TX Jan. 20………………………Anaheim, CA Jan. 27………………………Glendale, AZ Feb. 3……………………..…Oakland, CA Feb. 10………………………San Diego, CA Feb. 17………………………Arlington, TX Feb. 24………………………Tampa, FL Mar. 3……………………..…Atlanta, GA Mar. 10………………………Daytona, FL Mar. 17………………………St. Louis, MO Mar. 24………………………Indianapolis, IN Apr. 7……………………..…Seattle, WA Apr. 14………………………Minneapolis, MN Apr. 21………………………Foxborough, MA Apr. 28………………………Salt Lake City, UT
May 5…………………….…Las Vegas, NV
2018 AMA NATIONAL CHAMPIONSHIP May 19……………………Hangtown, CA May 26.…………………..Glen Helen, CA June 2..………………….Thunder Valley, CO June 16..…………………Mt Morris, PA June 23.………………….Muddy Creek, TN June 30.………………….Red Bud, MI July 7..……………………Southwick, MA​ July 21.…………………..Millville, MN​ July 28.…………………..Washougal, WA Aug. 11..………………….Unadilla, NY​ Aug. 18..………………….Budds Creek, MD​
Aug. 25.…………………..Crawfordsville, IN
2018 FIM MOTOCROSS WORLD CHAMPIONSHIP Mar. 4……………………..Argentina Mar. 18…………………….Holland 1 Mar. 25…………………….Spain Apr. 8……………………….Italy 1 Apr. 15……………………..Portugal May 1……………………….Russia May 13……………………..Latvia May 20…………………….Germany June 3………………………England June 10…………………….France June 17…………………….Italy 2 July 1……………………….Indonesia 1 July 8……………………….Indonesia 2 July 22……………………..Czech Republic Aug. 5………………………Belgium Aug. 12……………………..Sweden Aug. 19……………………..Switzerland Sept. 2………………………Turkey Sept. 16……………………..Holland 2
Sept. 30…………………….Italy 3
2018 MOTOCROSS DES NATIONS
Oct. 7………………………Red Bud, MI
2018 AMSOIL ARENACROSS CHAMPIONSHIP Jan. 6-7………………………….Dayton, OH Jan. 13-14………………………Worcester, MA Jan. 20-21……………………….Wilkes Barre, PA Jan. 27-28………………………Greensboro, NC Feb. 10-11………………………Madison, WI Feb. 17-18………………………Florence, SC Mar. 17-18………………………Denver, CO Mar. 24-25………………………Nampa, ID Apr. 7-8………………………….Wichita, KS Apr. 21-22………………………Portland, OR Apr. 28-29………………………Reno, NV
May 4-6…………………………Las Vegas, NV
2018 OLD SCHOOL SCRAMBLES CHAMPIONSHIP Feb. 11……………………..Glen Helen, CA Mar. 25…………………….Glen Helen, CA June 17………………..…..Glen Helen, CA Aug. 19………………..…..Glen Helen, CA
Dec. 9………………………Glen Helen, CA
2018 BRITISH ARENACROSS CHAMPIONSHIP Jan. 6…………………………..Manchester Jan. 13………………………….Newcastle Jan. 20…………………………Birmingham Jan. 26-27…………………….Belfast Feb. 10………………………….Sheffield
Feb. 17………………………….London
2018 BRITISH NATIONAL CHAMPIONSHIP April 8………………….…..…Lyng May 20……………..…..……Preston Docks May 27…………….…..…….Hawkstone Park July 1………….…..…….…..Sherwood July 15………….…..……….Canada Heights
Sept. 2…………….…..…….Crookwood
2018 WORLD OFFROAD CHAMPIONSHIP (WORCS) Feb. 2-4…………………..……Las Vegas, NV Feb. 23-25……………….…..Phoenix, AZ Mar. 23-24……………….…..Lake Havasu, AZ Apr. 20-22……………….…..Hurricane, UT May 25-27……………………Cedar City, UT Sept. 14-16……………………Glen Helen, CA Oct. 19-21………………….…Adelanto, CA
Nov. 9-11……………………..Primm, NV
2018 WORLD VET CHAMPIONSHIP
Nov. 3-4…………………..…..Glen Helen, CA
Click in images to enlarge.
Photos: Spencer Owens, Debbi Tamietti, Dan Alamangos, Jody Weisel, Daryl Ecklund, Travis Fant, MXA