Cooper Webb is healing from a broken tib/fib.
TEAM YAMAHA: It has been a tough year for the Yamaha team. They lost in quick succession Davi Millspas (and with him team sponsor Knich), Justin Barcia (broken hand) and Cooper Webb (broken tib/fib). Barcia is back for the AMA 450 Nationals, but Webb is still recovering from having his ankle plated. Millsaps retired and Yamaha got weird with their fill-in riders, including bringing a blast from the past, Josh Hill, out of retirement for three races and now, for the Nationals they have promoted privateer Alex Ray to the team to replace Webb (until Weeb's ankle is healed).
Marvin Musquin is missed winning the 2018 AMA 450 Supercross Championship by one spot—can he become the 450 outdoor champ?
TEAM KTM: At the start of the 2018 Supercross season, KTM had Marvin Musquin and Broc Tickle on the starting line. Tickle got caught up in a WADA drug controversy and was suspended from racing the Supercross series (or any other major motocross series) until he gets his FIM hearing (which often takes four months). Once Tickle's B-sample came back as positive as his original A-sample, KTM terminated his contract. This doesn't mean that they think he is guilty, but they have no reason to have a rider on the team and payroll who most likely will not be able to race again in 2018. That leaves Marvin Musquin as KTM's sole rider for the 450 Nationals (and Roger DeCoster is loath to put anyone on his bikes that doesn't have the skill to put it in the top ten —and there are very few unsigned riders who can do that in 2018.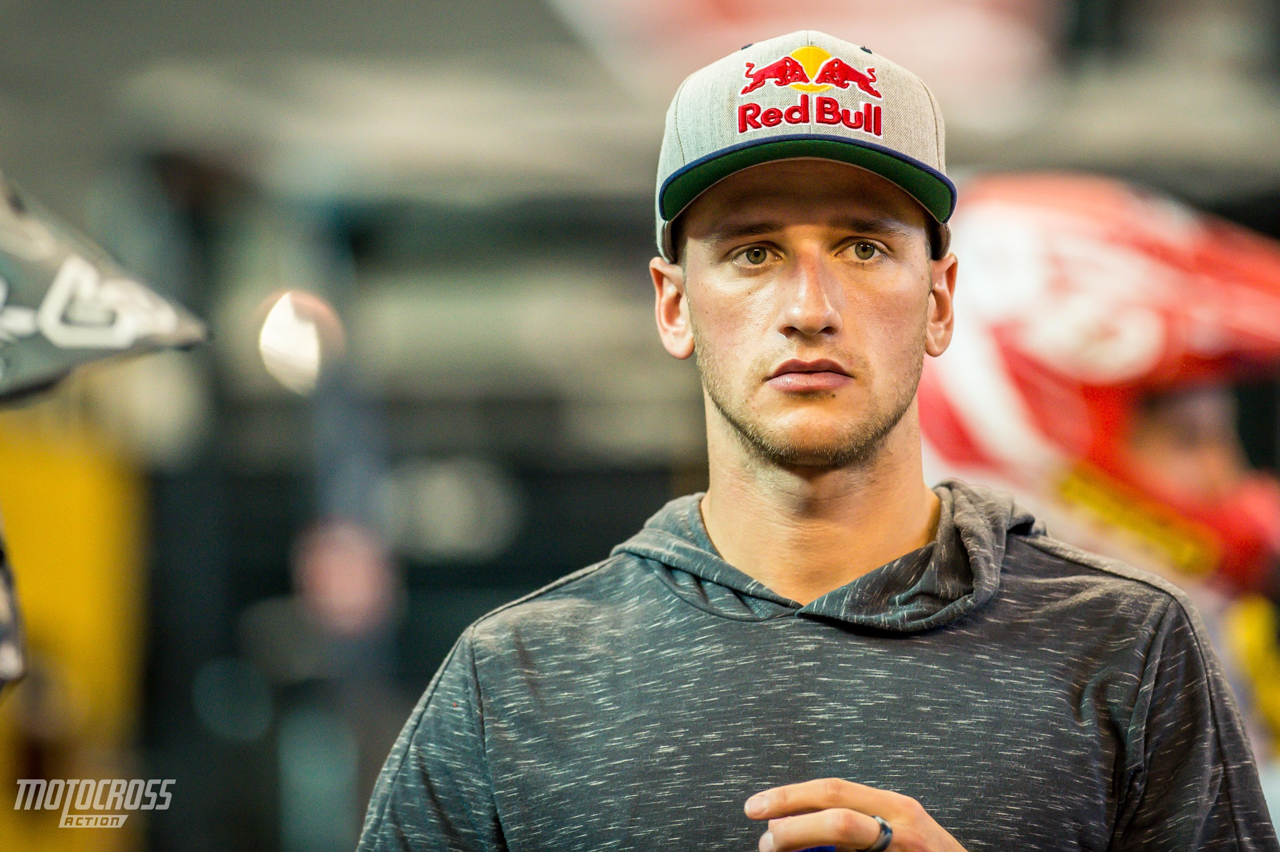 Ken Roczen has been testing out his injured throttle hand and hopes to race into condition as the season progresses
TEAM HONDA: Honda could be back up to full-strength, even with more 450 riders than they started the season with. Christian Craig became the fill-in rider (and sole red rider) after both Ken Roczen (hand) and Cole Seely (pelvis) were put out of action. Craig will not be returning to the Geico Honda team for the AMA Nationals, but will stay on Team Honda in the 450 class. As for Ken Roczen and Cole Seely, both want to return to racing, and may well do so—but they will not be 100% when they do.
Malcolm Stewart has officially "gone fishing" for the rest of 2018.
JGRMX/AUTOTRADER SUZUKI: Weston Peick will be joined by Phil Nicoletti, who is filling in for the injured Justin Bogle at the opening rounds of the AMA 450 National Motocross Championships. Bogle got hurt before the Supercross series started, missed a bunch of rounds, came back and got hurt again. When Bogle is ready to race he will be back on the team.
No one really expected Malcolm Stewart to actually race the AMA Nationals, after all, he has not been on the starting line for the outdoor series since Budds Creek in 2014. JGR took a chance on Malcolm Stewart for the 2018 Supercross season as a replacement for Justin Bogle, but he didn't make the top ten in 450 Supercross points, never cracked the top five at any race (even with so many factory stars out of action) and was only in the top ten 5 out of the 16 rounds he raced.
Eli Tomac is the current 450 National Champion and is the favorite (just as he was in Supercross) to win the 2018 title. It's his to lose.
TEAM KAWASAKI: Eli Tomac started the season with Josh Grant as his teammate, but Grant hurt both of his ankles and stopped to have surgery on them. Tyler Bowers got the fill-in ride to be Tomac's sidekick. Lately, Josh Grant has been testing out his ankles, but has decided that they aren't ready for Hangtown. He will return at a later date.
Dean Wilson will not be racing the 450 Nationals this year.
TEAM HUSQVARNA: The Rockstar-sponsored Husqvarna team was dealt a blow when Dean Wilson tore his ACL while testing at Glen Helen two weeks ago. Jason Anderson is currently alone at Team Husqvarna. Zach Osborne has said several times that he is moving to the 450 class—and even the latest Husqvarna press release said that he would be aboard an FC450 "soon," but none of the previous claims have been true and Husky can't be blamed for leaving Osborne in the 250 class so that he can defend his title and run the number one plate at Hangtown. We'll have to wait and see what Rockstar does about replacing Dean Wilson.

Do you remember when Pro Circuit raced Hnda CR125s? Do you remember that Mitch Payton made them blue? Do you remember Pro Circuit's Peak Anti-Freeze sponsorship deal. Do you remember Pro Circuit's color-coordinated bikes, trucks and team uniforms? Do you remember that Jeremy McGrath won the 1991 and 1992 125 West

JOIN MXA'S FACEBOOK GROUP CHAT

We love everything moto and want to bring all moto junkies together into one place to share their two cents, ideas, photos, bike fixes, bike problems and much more. To check it out first you must need to or already have a Facebook account. If you don't, it isn't much work and you could even have an alias so nobody knows it is you. You can go to MXA's Facebook page by clicking here.
2018 FIM 250/450 GRAND PRIX POINTS STANDINGS AFTER LATVIA

Jeffrey Herlings won his fifth Grand Prix out of seven. He has finally put a solid 29-point gap between himself and Tony Cairoli.

2018 450 GRAND PRIX POINTS (After 7 of 20 rounds) 1. Jeffrey Herlings (KTM)…336 2. Tony Cairoli (KTM)…307 3. Clement Desalle (Kaw)…244 4. Romain Febvre (Yam)…223 5. Gautier Paulin (Hus)…218 6. Glenn Coldenhoff (KTM)…180 7. Jeremy Van Horebeek (Yam)…179 8. Tim Gajser (Hon)…177 9. Jeremy Seewer (Yam)…155
10. Julien Lieber (Yam)…134